Visual Arts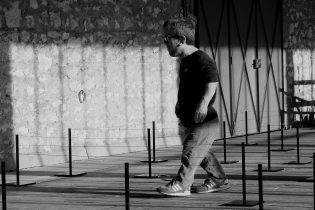 Corban Walker
Corban Walker was born in Dublin in 1967.
He has gained recognition for his installations, sculptures, and drawings that relate to perceptions of scale and architectural constructs.  His local, cultural, and specific philosophies of scale are fundamental to how he defines and develops his work, creating new means for viewers to interact and navigate their surroundings.
He graduated from the National College of Art and Design, Dublin, with a degree in Fine Art Sculpture in 1992. His first solo show was held at the City Arts Centre in Dublin, Ireland in 1994. Since then, he has mounted solo exhibitions internationally and has realized eight important public commissions worldwide. Walker's work is part of numerous public and private collections around the world, including the Solomon R. Guggenheim Museum, New York and the Irish Museum of Art, Dublin. Since 2008, he has worked at several international residency programs including Casa Wabi in Oaxaca, Mexico and Atelier Calder in Saché, France in 2015.
He first exhibited with Pace Wildenstein in the fall of 2000 and held subsequent exhibitions at the gallery in 2007 and 2009.  In 2008, he was a visiting artist at the Museum of Glass in Tacoma, Washington. In July 2010, he was chosen to represent Ireland at the 54th Venice International Art Biennale 2011. In the same year he was elected as a member of Aosdana, by the Arts Council of Ireland. He received the Pollock Krasner Award in 2015.
He had lived in New York for several years before returning to Ireland in 2017, where he is currently based.