Visual Arts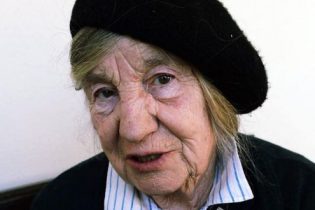 Camille Souter
Camille Souter was born in Northhampton, England, in 1929. She was raised in Ireland and studied nursing at Guy's Hospital, London before taking up painting while on a trip to Italy during her recovery from an illness in the mid-1950s. Returning to Ireland in 1956, she began her career as an artist in earnest.
Her work is characterised by both an interest in ordinary, unexceptional things and a tendency to paint in series which have seen flying, medical memories, the Gulf War, meat and the circus appear as recurring themes. From early paintings, largely described by sources other than the artist as abstract, to more representational figurative work, her interest in the everyday, the things she encounters on her journey through life, is a constant. Uncompromisingly committed to painting, her work is reminiscent of the rich colouration, loosely painterly technique and straightforward gaze of French Realism.
She won the Landscape Award at the Oireachtas Exhibition in 1973, the Gainey Award with Patrick Collins in 1975, the Prix de Ville de Monaco 1977 and first prize at the Claremorris Exhibition in 1978. The Douglas Hyde Gallery in Dublin held a major retrospective of her work in 1980 and she has also exhibited with major Irish group shows such as the Irish Exhibition of Living Art, the RHA Annual, Independent Artists and the Oireachtas Exhibition.
More recently, she produced two limited-edition giclée prints; one as part of the IMMA `Editions` series and another, The Late Night Show, from her circus series. She is an Honorary member of the RHA and a member of Aosdána. She was elected Saoi of Aosdána in a ceremony presided over by President of Ireland Mary McAleese on 24 November 2009, where she was presented with the symbol of the office of Saoi, the gold Torc.