Literature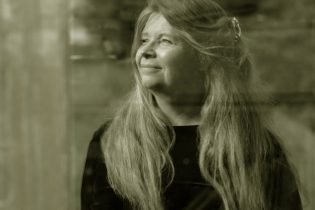 Nuala Ní Dhomhnaill
Born in Lancashire in 1952 to Irish parents, Nuala Ní Dhomhnaill was brought up in the Dingle Gaeltacht and in Nenagh, Co. Tipperary, and was educated at University College, Cork.
Her collections of poetry include An Dealg Droighin (1981), Féar Suaithinseach (1984), Rogha Dánta/Selected Poems (1986, 1988, 1990), Pharaoh's Daughter (1990), Feis (1991), The Astrakhan Cloak (1992), Spíonáin is Róiseanna (1993), In the Heart of Europe: Poems for Bosnia (1998) and Cead Aighnis (2000). The Water Horse appeared with translations by Medbh McGuckian and Eiléan Ní Chuilleanáin in 1999, and her work has also frequently been translated by the poets Michael Hartnett, Seamus Heaney, Paul Muldoon and Michael Longley.
In 1995, she edited Jumping off Shadows: Selected Contemporary Irish Poets with Greg Delanty, and she has written several children's plays.
She received Duais Sheáin Uí Ríordáin in 1982, 1984 and 1990, Duais Na Chomhairle Ealaíne um Filíochta in 1985 and 1988, Gradam an Oireachtais (1984), the Irish American Foundation O'Shaughnessy Award for Poetry (1988), and the American Ireland Fund Literature Prize (1991).
She was writer in residence for Dún Laoghaire Rathdown County Council in 1998, and she taught at New York University, Boston College and Villanova University in the U.S. In 2001 she became Ireland Professor of Poetry. She lives in Dublin.