Literature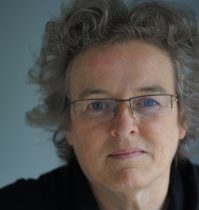 Mary Morrissy
Mary Morrissy is a novelist, short story writer and journalist.  Born in Dublin in 1957, she is the author of three novels, Mother of Pearl, The Pretender and The Rising of Bella Casey and two collections of stories, A Lazy Eye and most recently, Prosperity Drive.
Mother of Pearl, her first novel, was shortlisted for the Whitbread Award (now Costa); The Pretender and The Rising of Bella Casey have both been nominated for the Dublin International Literary Award.
Her short fiction has been anthologised widely and won her a Hennessy Award in 1984.  She was awarded the prestigious US Lannan Foundation Award in 1995.  In 2005/6 she was a Cullman Centre Fellow at the New York Public Library.
For over 30 years, she has worked as a journalist with three national dailies, The Irish Press, Irish Times and Irish Examiner and since 2000, has taught creative writing in Ireland and the US, including the University of Iowa, George Washington University, University of Arkansas, Trinity College Dublin and UCD.
She is now Associate Director of Creative Writing at University College Cork.
Website: https://marymorrissy.com/