Architecture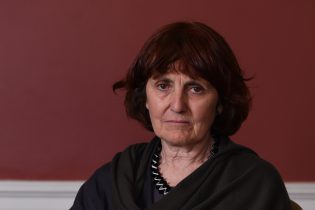 Shelley McNamara
Shelley McNamara was born in Lisdoonvarna in County Clare. She attended University College, Dublin (UCD) in 1974 and together with Yvonne Farrell established Grafton Architects in 1977. She has worked as a studio lecturer at the School of Architecture in UCD since 1976 and is visiting critic to schools of architecture abroad including Oxford Books University, Mendrisio and Oslo. She was elected a fellow of the Royal Institute of Architects of Ireland for achievement of excellence in design.
She has directed the design and construction of the following projects (sample): Motorway Bridges at Dublin Airport; Office Building, Dublin City University; Dun Shaughlin Civic Offices in County Meath; Mixed Development, South King Street; screening room at Little Bird Productions at Denzille Lane in Dublin; Department of Mechanical Engineering at Trinity College, Dublin; Temple Bar Square in Dublin and St. Paul's Secondary School in Oughterard.
Her company was the winner of an international design competition for the Luigi Bocconi University in Milan completed in 2008. She also directed this project. Grafton Architects Bocconi project was exhibited in the Italian Pavillion at the Venice Biennale in 2002.