Music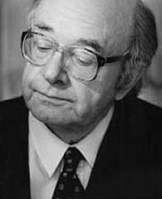 John Kinsella
Born in Dublin in 1932, John Kinsella balanced two careers until 1988, when he resigned as RTÉ's Head of Music to devote his time fully to composition. Since then he has written nine symphonies, a second violin concerto, a fourth string quartet and many solo and chamber works.
He has received commissions from, among others, The Irish Chamber Orchestra, Concorde, the Guardian Dublin International Piano Competition, the Arts Council of Wales and RTÉ. The Irish Government commissioned The Wayfarer: Rhapsody on a poem of P.H. Pearse (1979) to mark the centenary of Pearse's birth, and Kinsella's 5th Symphony, The 1916 Poets (1991-2) uses the writings of Pearse, Plunkett and MacDonagh.
In December 1999 his Symphony No. 8: Into the new Millennium, featuring three boy soprano soloists, was premiered by the National Symphony Orchestra of Ireland. Recent premieres include a Cello Concerto (2002) with the Mexican cellist Carlos Prieto who subsequently gave three performances in Mexico in May of that year and recorded the concerto on CD.
A recent association with the Irish Chamber Orchestra has been fruitful. The orchestra included Kinsella's string orchestra work Hommage a Clarence in their tour of the new countries joining the European Union and this led to a commission for his Symphony No. 9 which has already had three performances. The Ulster Orchestra has also recently given a public performance of his Symphony No. 6 and recorded it for broadcast on BBC Radio 3. He Is currently, (September 2007), completing a commission for a concert marking the 60th Anniversary of the founding of the RTE National Symphony Orchestra. This took place in April 2008
He is a recipient of the Marten Toonder award and some of his music has been recorded on the Chandos and Naxos labels. It is one of his great disappointments that so little modern Irish music is available in commercial recordings so that it can reach a world wide audience.