Visual Arts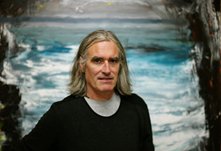 Eddie Kennedy
Eddie Kennedy was born in North Tipperary in 1960 and now lives in Dublin.
First exhibiting at the Independent Artists Exhibition at the Douglas Hyde Gallery in 1982, he graduated from Limerick School of Art and Design with a Distinction in Painting in 1983. He was awarded a full scholarship by the University of Cincinnati, where he received a Masters in Fine Art Painting in 1989. Subsequently, Kennedy spent a number of years in New York painting, exhibiting and working alongside established US artists. He has maintained a significant presence in the United States exhibiting regularly with, among others, the John Cacciola Gallery in Chelsea and at art fairs in Los Angeles, Miami and Chicago. Kennedy's work has also been exhibited frequently in the United Kingdom and Europe.
Early solo shows in Ireland included the Tom Caldwell Gallery in Dublin and the Riverrun Gallery in Limerick. He returned home to Ireland with a solo show at Dublin's Irish Life Exhibition Centre in 1996. Later Kennedy exhibited with the Paul Kane Gallery in Dublin and had solo shows at Éigse, Carlow (2000 and 2009) and was included in the Éigse, 30th anniversary exhibition (2010) at VISUAL, Carlow.
He has been the grateful recipient of awards from the Ballinglen Arts Foundation, TippFM and the Pollock-Krasner Foundation. Publications on his work include Find (2007, ISBN: 978-0-9556736-0-3) and Thread (2012, ISBN: 978-0-9564950-9-9). Kennedy has been represented by Hillsboro Fine Art, Dublin, since 2004.
www.hillsborofineart.ie
www.eddiekennedystudio.com