Visual Arts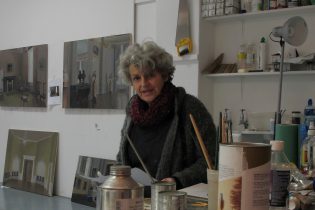 Eithne Jordan
Eithne Jordan was born in Dublin where she studied at Dun Laoghaire Institute of Art, Design & Technology. She was awarded a DAAD scholarship in 1984 to study at the Hochschule der Künste in West Berlin, where she subsequently lived for several years. Since 1990 she has worked between Languedoc in the south of France and Ireland.
Her work focuses on the contemporary city, exploring themes of alienation and estrangement, and looking at places such as Paris, Rotterdam, Madrid, Vienna, and Dublin. A member of Aosdana and the Royal Hibernian Academy, she is one of Ireland's leading figurative painters.
Recent solo shows include  Tableau, Dublin City Gallery The Hugh Lane, 2017; When Walking, Butler Gallery, Kilkenny, 2017; Street, RHA Gallery, 2012;   En Route, Rubicon Gallery, Dublin, 2012; Small Worlds, The MAC, Belfast, 2012;  Street Stills, Assab One, Milan, 2011.
Her work is in major public and private collections in Ireland, Europe and the US.