Visual Arts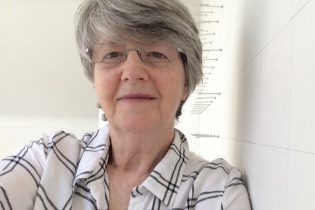 Marie Hanlon
Marie Hanlon is a visual artist based in Dublin, Ireland. In recent years her artmaking has moved away from painting in favour of sculptural installation. This change coincides with a growing awareness of environmental issues and the precariousness of life on the planet.
Materials used in her work include water, oil, aluminium, plexiglass and existing objects, other media such as photography, video and sound are also used. Working and shaping materials into contemporary artworks enables her to address the seriousness of environmental issues in ways which are sometimes direct, sometimes indirect, and occasionally humorous. She requires the viewer to work hard at deciphering some works while making them smile at others.
Hanlon's stated task as an artist is to 'make visible' through the language of art; to find new and different ways of bringing attention to those things we'd rather not see. She attempts to engage the viewer through the immediacy of the encounter with the artwork and the longevity of its afterimage
Marie Hanlon holds an MA in 'Art in the Contemporary World from The School of Visual Culture, NCAD, Dublin, and a BA in English and Art History from University College, Dublin. She is a member of Aosdána – the official body of cultural producers in Ireland.
In recent years Marie Hanlon has produced several collaborative projects with Irish composers, notably with Rhona Clarke. Her work has been exhibited and screened widely in Ireland and internationally. Venues include: Atelier Siegele, Darmstadt Session, Darmstadt, Germany / Shatin Town Hall, Hong Kong / KULTURECENTRE, Nætved, Denmark / University of Lille, France / The Kevin Barry Room, National Concert Hall, Dublin / IFI, Dublin / Cregan Library, DCU, Dublin / The Luan Gallery / Solstice Art Centre / Rua Red Art Centre / Rubicon Gallery / RHA, Dublin / Visual, Carlow / Draiocht Art Centre / Fenderesky Gallery, Belfast / Wexford Art Centre / Galerie Katharina Krohn, Basel / Percussion Penthouse, New York / Vancity Theatre, Vancouver / Cali, Colombia, South America / Irisches Kulturfestival, Stuttgart, Germany / The Nerve Centre, Derry.