Visual Arts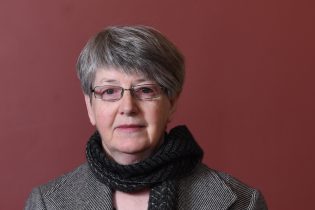 Marie Hanlon
Marie Hanlon has worked as a professional artist since 1990. Previously known as an abstract painter of finely made small and medium sized pieces, her output in recent years encompasses a
broader range of media. Through her collaboration with contemporary composers she developed new work, especially in video and installation.
Her incorporation of music was not merely to enhance the visual but to create a tense equal partnership in which both elements allowed the other to be more fully realized. This collaborative experience has taken her art in new directions and today her practice could be described as multimedia.
In her recent exhibition Lies Tell Lies, Source Art Centre, Thurles, 2017 she presented 3D objects, moving image and wall drawing. Water Table, Luan Gallery, Athlone, 2018 comprised a water installation with sound by Rhona Clarke.
She has exhibited as a solo artist, in addition to group shows and screenings, throughout Ireland and abroad, venues include: Solstice Art Centre / Rua Red / Rubicon Gallery / RHA / Visual, Carlow / Draiocht Art Centre / Fenderseky Gallery, Belfast / Wexford Art Centre / Galerie Katharina Krohn, Basel / Percussion Penthouse, New York, / Vancity Theatre, Vancouver / Cali, Colombia South America / SIME Festival Lille, France / Stuttgart, Germany / The Nerve Centre, Derry / IFI, Dublin / Jill George Gallery, London.
She was born in Kilkenny and studied History of European Painting and English at University College Dublin. Currently she lives and works in Dublin and is represented by Rubicon Projects.