Visual Arts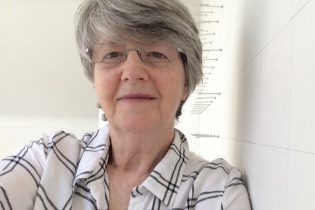 Marie Hanlon
Marie Hanlon is a Dublin based Irish artist working in a variety of media including painting, drawing, sculpture, video and installation. She graduated from University College, Dublin in 1977 with a BA in English and History of European Painting. In 2018 she received an MA from The National College of Art & Design, Dublin.
Moving forward from concerns with abstraction in painting Marie Hanlon's more recent collaborations with contemporary composers led her to use a broader range of media. Her expanded practice brings a new engagement with reality, whether looking at big issues or small details, Hanlon employs a subtle commentary which can be at times serious, but also humorous. Sculpture and installation predominate in recent exhibitions; It's all about Books (2019) The Cregan Library, Dublin City University, explored the book as art object, Water Table (2018) The Luan Gallery related to environmental concerns of drought and flooding.
She has exhibited as a solo artist and in group shows throughout Ireland and abroad, in addition she has had many screenings in concert performance spaces. Venues include: Shatin Town Hall, Hong Kong / KULTURECENTRE, Næstved, Denmark /  University of Lille, France / The Kevin Barry Room, NCH, Dublin / The IFI, Dublin / The Cregan Library, DCU, Dublin / The Luan Gallery /  Solstice Art Centre / Rua Red / Rubicon Gallery / RHA / Visual, Carlow / Draiocht Art Centre / Fenderseky Gallery, Belfast / Wexford Art Centre / Galerie Katharina Krohn, Basel / Percussion Penthouse, New York, / Vancity Theatre, Vancouver / Cali, Colombia South America / Irisches Kulturfestival, Stuttgart, Germany / The Nerve Centre, Derry.