Visual Arts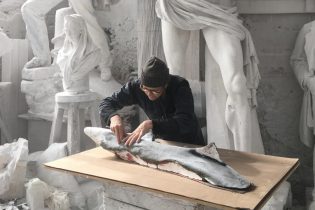 Dorothy Cross
Born in Cork in 1956 Dorothy Cross received a BA from Leicester Polytechnic, England in 1979 and an MFA from the San Francisco Art Institute, California in 1982 .
Dorothy Crosse's work moves from sculpture to video and photography. Her best known works include the Udder series: sculptures using cow udders, from 1992 – 1994 and the Ghostship that was moored in Dublin Bay in 1999. One of her works Virgin Shroud is in the collection of Tate Modern in London. She has represented Ireland at the Venice Biennale (1992) and the Istanbul Biennale (1997). In 2002 Dorothy Cross worked with her brother, Professor of Zoology Tom Cross on Medusae a film about jellyfish. In 2004 she produced the Pergolesi Stabat Mater in conjunction with Opera Theatre Company in the slate quarry on Valentia Island. In the summer of 2005 the Irish Museum of Modern Art held a retrospective show of her work.
Dorothy Cross is represented by the Kerlin Gallery in Dublin, and Frith Street Gallery in London.
Image: Dorothy Cross .  Carrara . 2019