Literature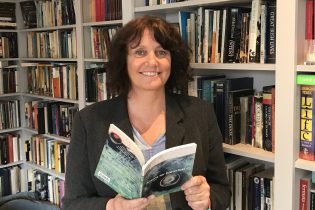 Enda Wyley
Enda Wyley is poet and children's author. She was born in Dun Laoghaire, Co Dublin. She has published six collections of poetry with Dedalus Press; The Painter on his Bike, (2019 ) Borrowed Space, New and Selected Poems, (2014), To Wake to This, (2009), Poems for Breakfast, (2004), Socrates in the Garden, (1998) and Eating Baby Jesus, (1993).
She holds a B.Ed with a distinction in English Literature and was the recipient of an M.A in Creative Writing from Lancaster University. She was the inaugural winner of the Vincent Buckley Poetry Prize and has received many Arts Council Literature Bursaries. In 2014 she was the recipient of a Patrick and Katherine Kavanagh Fellowship for her poetry.
Her poetry has been widely broadcast, translated and anthologised including in The Field Day Anthology of Irish Women's Writing and Tradition, Volumes 4 & 5, (2002) The Harvard Anthology of Modern Irish Poetry, USA (2010), Femmes d'Irlande en Poésie, 1973-2013, ed Clíona Ní Ríordáin, Paris and Lines of Vision, The National Gallery of Ireland, (2014).
She has been the poet-in-residence for many arts projects and institutions including; The Coombe Maternity Hospital, Dublin, The Marino Institute of Education, Dublin, Dearcán na nDaoine/ The People's Acorn,  2016-2017 for Áras an Uachtaráin, Dublin's Culture Connects, Dublin South East, 2017-2018 and The Bealtaine Poetry and Film Project 2018.
Her books for children from O'Brien Press, are Boo and Bear, I Won't Go to China! and The Silver Notebook. Milan books, Toulouse also translated The Silver Notebook into French 2010. Her book I Won't Go to China!  was awarded a Reading Association of Ireland Special Merit Award 2011.
Her poetry for children has been included in anthologies such as Something Beginning with P, O'Brien Press and Once Upon A Place, (ed. Eoin Colfer), Little Island.
In March 2015 she was elected to Aosdána. She currently lives in Dublin.