Music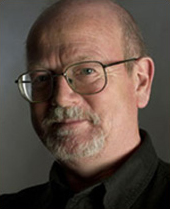 Eric Sweeney
Born in 1948, Eric Sweeney was a member of Aosdána and a former member of the Arts Council from 1989-1993. He had a formative early life in music as a boy chorister at St. Patrick's Cathedral, Dublin and began studies as an organist with Sidney Grieg, He subsequently studied in Ireland, England, Belgium and Italy.
He led a very busy life as a freelance composer, organist and choral director based in Dublin including a period as Choral Director at RTE from 1978 to 1981, before settling in Waterford where he was Head of Music at Waterford Institute of Technology from 1998 until his retirement in 2010. He had previously lectured in Trinity College Dublin and DIT Conservatory of Music.
He produced a large body of compositional work ranging from solo instrumental works to works for orchestra (including several concertos and two symphonies) and a substantial output of choral and vocal music. Recent work has included three chamber operas 'Ulysses' (2015), 'The Green One' (2014) and 'The Invader' (2013). Over his lifetime, his music evolved from a strongly European-influenced contemporary style to a more uniquely refined and personal blend of this tradition with tonal, minimalist and Irish traditional music elements.
His music has been performed by groups such as the Royal Philharmonic Orchestra, Chamber Choir Ireland, RTÉ National Symphony Orchestra, Irish Chamber orchestra., Prague Chamber Orchestra, European Union Chamber Orchestra, National Youth Choirs of Great Britain and the Ulster Orchestra among others.
Eric represented Ireland at the International Rostrum of Composers in Paris on five occasions, and his work has been broadcast throughout Europe and in the USA and Canada. In 1995 he was composer-in-residence at the Newport Music Festival, Rhode Island, USA and in 1998 he was Visiting Scholar in Composition at the University of Illinois, Urbana.