Visual Arts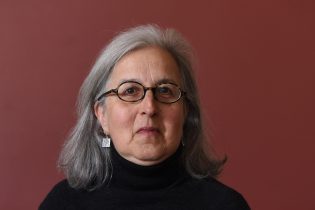 Amelia Stein
Amelia Stein, RHA, is a photographer who lives and works in Dublin, where she was born in 1958. Over the past 30 years she has established herself as a singularly exacting photographer whose work is characterised by meticulous attention to detail in tandem with the attributes of fine black and white photographic printing, many of the images having a theatrical presence.
Her area of expertise has been portraiture, working with actors, performers, playwrights, poets, authors and musicians on commissioned images and on production photography in the Irish Theatre/Opera and Music Industry 1979-2000. Many of these images have had worldwide exposure.
Much of her work addresses the universal subject of loss and memory, absence and presence. Loss and Memory, 2002, comprises the dark and intimate still lives of her late parents' personal belongings and household items. Memories imbue ordinary objects with status and meaning.
View Loss And Memory website: ameliastein.com/loss-and-memory
The Palm House, photographs taken in the Great Palm House at the National Botanic Gardens in Glasnevin, Dublin, 2002. Over two years and prior to its restoration, recording the unique relationship between the planting and the time-worn fabric of the building, the seasonal changes in light, as plants marked the passing of time, rewarding her with quiet moments of splendor. The exhibition is now in the collection of the OPW, Ireland, the The Palm House was published by Lilliput press, 2012.
The Palm House: ameliastein.com/the-palm-house
Perhaps her magnus opus to date is her study of the members of the Royal Hibernian Academy which was published as a book in the year of the opening of their new and refurbished premises in Ely Place in 2009. Here her ability to identify the metaphorical potential of objects combined with her keen isolation for the meaning full close-up and her tried and elegant skill to draw out the character of a face. Her strategy was to hunt the personality of the artist through creating images of them in their studio through a facial portrait, an image of their hands and a study of their chair, or the tools of their practice.
Absence and migration is again explored in a new body of work The Big Sky which places the vernacular buildings in the rural landscape as still life objects in the vast wide open north Mayo landscape. Some structures are abandoned, replaced with the new. Homes are re-invented as animal shelters or storage for turf, traditional stone barns and stables are viewed against the vast open sky. A landscape that is subject to extremes of the weather while its population has traditionally moved away from the land. Oliver Sears Gallery, 2012.
The Big Sky: ameliastein.com/the-big-sky
She became a full member of the Royal Hibernian Academy in 2004 – the first photographer ever to be elected to that body. She was elected to Aosdána in 2006.