Literature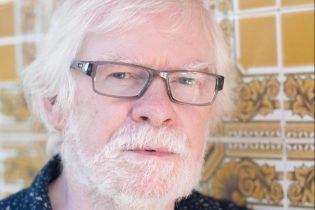 Gerard Smyth
Gerard Smyth is a poet, critic and journalist. He was born in 1951 in Dublin where he still lives. His poetry has appeared widely in journals in Ireland, Britain and the United States since the late 1960s, as well as in translation.
His first publications were with New Writers' Press, including World Without End (1977).  Raven Arts Press published Loss and Gain (1981). He has published six poetry collections with Dedalus Press – Painting the Pink Roses Black (1986); Daytime Sleeper (2002); A New Tenancy (2004); The Mirror Tent (2007); The Fullness of Time, New and Selected Poems ( 2010) and A Song of Elsewhere ( 2015 ).
In 2017, The Yellow River, a collaborative poetry and paintings project with artist  Seán McSweeney was published by the Solstice Arts Centre, Navan. A combined exhibition of the paintings and poems was shown in the Solstice and in the Triskel Arts Centre in Cork.  Two limited edition poem sequences, We Like it Here Beside the River (with a drawing by Donald Teskey) and After Easter (with a drawing by Brian Maguire) were published by The Salvage Press.
He was the 2012 recipient of the O'Shaughnessy Poetry Award from the University of St Thomas in Minnesota and is co-editor, with Pat Boran, of If Ever You Go: A Map of Dublin in Poetry and Song (Dedalus Press) which was Dublin's One City One Book in 2013.