Visual Arts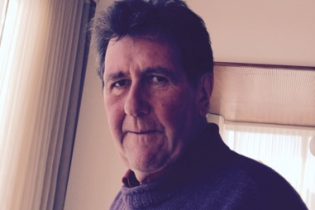 Dermot Seymour
Born in Belfast in 1956, Dermot Seymour studied at the University of Ulster, receiving an advanced diploma in art and design in 1981.
His "social realist" approach towards Northern Irish politics frequently involves a juxtaposition of images within the Irish landscape, particularly livestock, and religious and military symbols. In 1998, he and painter Martin Gale each produced a series of landscapes on opposite sides of the Northern Irish border as part of Fair to Mizen, a project organised and exhibited by the Boathouse Gallery in Cork.
He has participated in major group shows including On the Balcony of the Nation, which toured the US in the early 1990s; The Fifth Province – Some New Art from Ireland, which toured Canada in 1991-93;  and In a State, Kilmainham Gaol, Dublin. He has had solo shows in New York and Berlin, and in Ireland almost every year since 1981,  at the Orchard Gallery, Derry (2000); Kevin Kavanagh Gallery, Dublin (2000, 2001); Monaghan Museum (1999); Logan Gallery, Galway (1999) and the Galway Arts Centre (2002). In 2003 he exhibited 'Dog' at Kevin Kavanagh, in 2004 'The Bloated Inability to Eat Flags' was presented at the Millenium Court Arts Centre, Portadown,  'Fish, Flesh and Fowl' at the Golden Thread Gallery, Belfast in 2011, and 'Des Betes et des Hommes' at Centre Culturel Irlandais in 2012.
He lives and works in Co. Mayo.