Visual Arts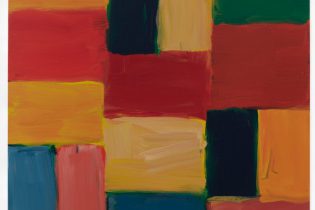 Seán Scully
Born in Dublin in 1945, Sean Scully is considered to be one of the world's leading abstract painters. Born in Dublin and raised in London, he now lives between New York and Germany. Appropriately, therefore, Scully's art is thoroughly international in perspective, drawing on the diverse historical and cultural influences of places that, at different times, have been profoundly important to him. He has taken inspiration from many cherished, varied elements of European culture (ranging from the harmonic ideals of ancient Greek architecture to the vernacular design of stone walls in rural Ireland) but he has also successfully responded to – and built on – the legacy of abstraction in the United States. Scully's commanding, internationally recognizable style of abstract art – based on repeating and steadily adapting arrangements of discretely nuanced blocks of colour – combines considerable painterly drama with great visual delicacy. It is an art of tremendous vigour: Scully is a forceful, physical artist, who creates intentionally monumental spaces. But it is also an art of acute concentration and care: his work involves an ongoing negotiation between the monumental and the intimate.
Recent solo exhibitions include: The Shape of Ideas, Modern Art Museum of Fort Worth, Texas (2021); Eleuthera, Royal Hibernian Academy, Dublin (2021); Passenger, Hungarian National Gallery, Budapest, Hungary (2021); Insideoutside, Skulpturenpark Waldfrieden, Wuppertal, Germany (2020-21), Opulent Ascension, LWL-Museum für Kunst und Kultur, Münster, Germany, (2020); Aeternum, Forum Paracelsus, St Moritz, (2020); Eleuthera, Centro de Arte Contemporáneo, Málaga, Spain,(2019/2020); Long Night, Villa e Collezione Panza, Varese, Italy,(2019 / 2020); Sean Scully. Celtique at Picasso House, Château de Boisgeloup, Gisros, France,(2019); Landline, The Wadsworth Atheneum, Hartford, Connecticut, (2019); Eleuthera, Albertina, Vienna, (2019); Sea Star, National Gallery, London, (2019); Vita Duplex, Staatliche Kunsthalle Karlsruhe, Karlsruhe, (2018); Landlines and other recent works, De Pont Museum of Contemporary Art, Tilburg (2018); Sean Scully: 1970, Walker Art, Liverpool Museum, (2018); Inside Outside, Yorkshire Sculpture Park, Wakefield, (2018) & THE LAND / THE LINE, Kerlin Gallery (2018).
Scully's work is represented in the collections of The Guggenheim Museum, New York; Metropolitan Museum of Art, New York; the Hirshhorn Museum, Washington; Philadelphia Museum of Art; The Modern Art Museum of Fort Worth, Fort Worth; Dallas Museum of Art, Dallas; National Gallery of Australia; Musée National d'Art Moderne, Centre Georges Pompidou, Paris; Kunstsammlung Nordrhein- Westfalen K20/K21, Düsseldorf Tate Gallery, London; Hugh Lane Gallery, Dublin; Irish Museum of Modern Art, Dublin and National Gallery of Ireland, Dublin, amongst others. Scully celebrated his 70th birthday in June 2015 by unveiling a new permanent site-specific installation at the world-famous Romanesque chapel Santa Cecília de Montserrat, near Barcelona.
Image: Wall Red Red, oil on linen, 2020, 160 x 160cm / 63 x 63 in