Visual Arts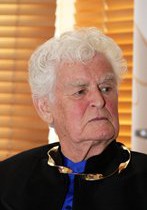 Patrick Scott
Patrick Scott was born in Kilbrittain, Co. Cork in 1921. Qualified as an architect, he worked on the development of Busaras in Dublin, including that building's mosaics. He has painted full-time since 1960, and represented Ireland in the XXX Biennale in Venice that year.
His works have been exhibited worldwide and are in many public and private collections, including the Hugh Lane Municipal Gallery of Modern Art, Dublin; Gulf Oil Corporation, Pittsburg; Ulster Museum, Belfast; the Museum of Modern Art, New York; and the Irish Museum of Modern Art. He has had many tapestry commissions, from among others, the Bank of Ireland; the European Parliament, Strasbourg; and St Paul's School, London.
Solo exhibitions include the White Stag Gallery, Dublin (1944); Dawson Gallery, Dublin (1961-77); Hamilton Galleries, Dublin (1980, 84, 86); Annely Juda Fine Art, London (1980); Butler Gallery, Kilkenny Castle (1980); Douglas Hyde Gallery, Dublin (1981); Stirling Gallery, Scotland (1982); Parnham House, Dorset (1984); B.P. Gallery, Brussels (1990); Taylor Galleries, Dublin (1991); Hugh Lane Gallery, Dublin (2002).
In July 2007, the President of Ireland, Mary McAleese, presided at a ceremony to mark the election of Patrick Scott as Saoi in Aosdána and presented him with a gold Torc – the symbol of the office of Saoi. The work of Patrick Scott was celebrated at Aosdána's General Assembly in April 2013.
Statement: 14 February 2014
It is with great sadness that we received the news that Aosdána Saoi Patrick Scott died today.
Speaking today, fellow Saoi and member of Aosdána , Anthony Cronin, said: "Patrick Scott was a valued member of Aosdána. A person of great charm and presence, he served several terms as a Toscaire in the early formative days of Aosdána and, in accordance with his significantly original achievement and his high international reputation, he was an honoured Saoi. He was a regular attendee at and contributor to General Assemblies to the end, and will be sadly missed."
Chair of the Toscaireacht, Brian Maguire said: "Patrick was a singular artist, who worked right up to the last. His most recent commission was of beautiful coloured windows for a Galway Cinema. An Irish artist, he contributed internationally in particular with the White Stag Group. His language was an individual form of expression. He was loved by his colleagues and will be deeply missed."
The thoughts of Aosdána members are with Eric, his family and his many friends at this time.