Visual Arts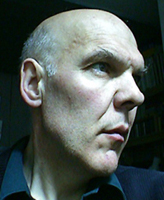 Nigel Rolfe
Born on the Isle of Wight in 1950, Nigel Rolfe has lived and worked in Dublin since 1974. His work includes photography, installation, video and sound, and he is best known for working live.
He established the performance art programme at the Project Arts Centre while Visual Arts Director there from 1974 – 1980. He has had retrospectives of his work at the Irish Museum of Modern Art (Archive) in 1994 and the Musee d'Art Moderne de la ville de Paris (Nigel Rolfe Videos 1983 – 1996) in 1996. He has exhibited at the Sao Paulo and Kwanju Biennales.
Most recently he took part in the European Performance Art Festival in Lublin, Poland in 2004. He has had two solo shows in 2005 at Galerie Polaris in Paris and Green On Red Gallery in Dublin.
He is Visiting Professor in Fine Art at the Royal College of Art in London and visiting critic to postgraduate fine art courses in U.S.A. at the University of Pennsylvania and in the U.K. at the Royal Academy and University of the Arts, Chelsea College of Art.