Choreography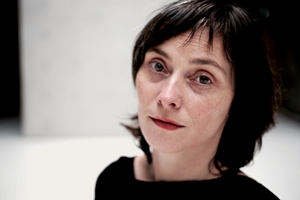 Liz Roche
Liz is co-founder and Artistic Director of Dublin based dance company Liz Roche Company (formerly Rex Levitates Dance Company). The company has produced and toured over 20 of her works, performing throughout Ireland and internationally at prestigious venues and festivals including the Baryshnikov Arts Centre New York, South Bank Centre London, Edinburgh Fringe Festival, Meet in Beijing Festival and Powerhouse Brisbane. Currently Company-in-residence at the Irish World Academy, University of Limerick, the company was in residence at Dublin Dance Festival and the Civic Theatre Tallaght from 2017 – 2019.
Recent commissions include I/Thou for Cork Opera House in partnership with Sirius Arts Centre which saw a major new production for the Opera House stage inspired by the work of visual artist Brian O'Doherty/Patrick Ireland, The Here Trio for Maiden Voyage Belfast and Näher… closer, nearer, sooner, for Goethe-Institut Ireland. In 2017 the company presented Totems for the National Gallery of Ireland and Dublin Dance Festival.
In 2016 Liz directed Embodied, a series of 5 choreographed female proclamations for the Dublin Dance Festival, commissioned by An Post/GPO for their 2016 celebrations.
In 2015 the company premiered Bastard Amber, commissioned by the Abbey Theatre, Dublin Dance Festival and Kilkenny Arts Festival. It was a historic moment for dance in Ireland, the first time ever for an Irish choreographer to be commissioned to create a full length dance work for the main stage of the Abbey Theatre.
Between 2009 and 2012 Liz was choreographer-in-residence at the Irish World Academy of Music and Dance at University Limerick, and is a former recipient of Peter Darrell Choreographic Award, Bonnie Bird U.K. New Choreography Award and the Dublin Fringe Festival's Jane Snow Award.
She has been commissioned to make work for a number of dance companies including the National Ballet of China, Arcane Collective, Maiden Voyage Dance, Croí Glan Integrated Dance, Scottish Dance Theatre, Cois Céim and Dance Theatre of Ireland.
As a dancer, she has worked with world renowned choreographers and companies: Rosemary Butcher (UK), Jodi Melnick (USA), John Jasperse Company (USA), Les Carnets Bagouet, Cathala & Ramalingom, (France) and Christine Gaigg 2nd Nature (Vienna) and has performed at Montpellier Danse, Paris Biennale, Festival De La Nouvelle Danse, Impuls Festival and the Viennale. In Ireland she has danced with CoisCeim Dance Theatre, imdt, Dance Theatre of Ireland and Daghdha Dance Company.
Choreographies for theatre include The Abbey Theatre's Anna Karenina, DrumBelly, King Lear, Alice In Funderland, The Government Inspector; The Gate Theatre's The Red Shoes, Festen and The Mariner; Dancing at Lughnasa for the Lyric Theatre Belfast; Landmark Productions' Woyzeck in Winter for GIAF and The Barbican, The Talk of the Town, Miss Julie, The Secret Garden and Alice In Wonderland, and Medea and A Tender Thing for Siren Productions. Her work in opera includes choreographies for Irish National Opera, Wexford Festival Opera, National Opera of Korea, Rossini Opera Festival, Opernhaus Zurich, Opera de Nice and Opera Ireland.
Liz was a selected artist for Modul Dance, a European network for dance artists between 2011 and 2014 and has also been a board member for Theatre Forum and Dance Ireland (Chair)