Visual Arts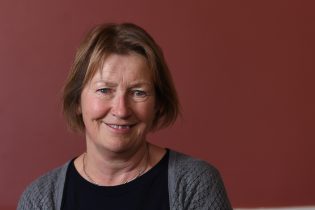 Vivienne Roche
Born in Cork in 1953, Vivienne Roche studied at the Crawford College of Art and at the School of the Museum of Fine Arts, Boston. She has participated in international group exhibitions in France, Finland, Sweden, England, and the U.S.
The Amen of Calm Waters formed part of the exhibition at the Irish pavilion at Expo 2000 in Hamburg. Tidal Erotics, a collaboration with composer John Buckley was shown at the Hugh Lane Gallery in Dublin in 1999, and subsequently appeared in various national venues.
Her recent work has frequently featured sea imagery. Her most recent major commission is Flow, a relief sculpture in plaster, glass and bronze for Fingal County Council that covers 140 square metres (2002); other public works include Wave Shadow for the Dublin Dental Hospital (1999) and Plumb Line for Dublin Corporation (1995).
The Rubicon Gallery, Dublin, exhibited her new work in 2000, and the Model Arts and Niland Gallery in Sligo will hold a solo show in 2003. She lives in Co. Cork.