Visual Arts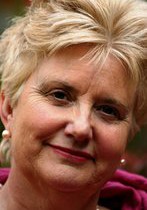 Janet Pierce
Born in 1947, she studied at the Edinburgh College of Art and Moray House, Edinburgh. She had her first solo exhibition in the Everhart Museum, Scranton, Pennsylvania in 1973 and after four years in America she moved to Ireland where she has since lived and worked.
Music has always been a concern of hers, and she collaborated with the traditional singers, Maighread and Triona NíDhomhnaill, in their CD Idir an Dá Sholas (between the two lights), a collaboration which helped her realise her deep connection with landscape.
However, following and intensely close involvement with India, since 2003, her work has taken a different direction.  Indian sacred singing and meditation has been the source of her work.  The word OM, from the ancient Sanskrit alphabet, is the sound of the universe or the Source or God, and reflects her desire to return to that Sacred Space within. Using gold and silver leaf from Old Delhi, these new abstract works on paper has resulted in an intensification of earlier consideration, her hunger for transcendence realised through the contemplation of landscape and of the cosmos.
She has won numerous awards, recently including one from Culture Ireland (2007), the Sanskritti Foundation, New Delhi (2003), Fundaction Valpairiso, Spain (2002) and she exhibits in many galleries througout Ireland.  Her main gallery in Ireland is Taylor Galleries, Dublin. She also exhibits in galleries in the USA, UK, Portugal and India.
For further information visit: www.janetpierce.com