Literature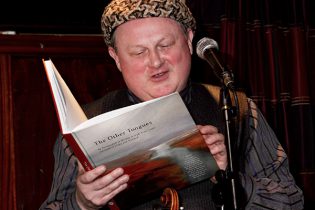 Cathal Ó Searcaigh
Born in Donegal in 1956, Cathal Ó Searcaigh lives at the foot of Mount Errigal in County Donegal's Derryveagh Mountains, where he is known as "Gúrú na gCnoc".
His many volumes of poetry include Miontraigéide Cathrach (1975), Tuirlingt (1979), Súile Shuibhne (1983), Suibhne (1987), An Bealach na Bhaile (1990), Homecoming (1993), Na Buachaillí Bána (1995) and Out in the Open (1997). His selected poems, Ag Tnúth leis an tSolas: 1975-2000, won the Irish Times' Irish language literature prize in 2001.
More recently he published Caiseal na gCorr: Poems and Photographs (2002), and Seal in Neipeal (2003), an account of his travels in Nepal. His play Oíche Ghealaí, an adaptation of the Salomé story, was produced by the An Grianán theatre in Letterkenny in 2001.
Selections of his work have been translated into French, Breton, Italian, German, Russian, Danish and Japanese, and have also been set to music. He won the Seán Ó Riordáin Prize for Poetry in 1994 and the Duais Bhord na Gaeilge in 1995.