Visual Arts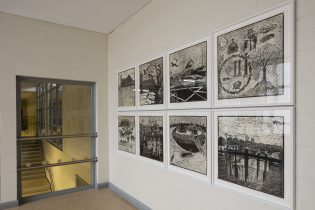 Geraldine O'Reilly
Geraldine O'Reilly, Visual Artist and Printmaker, is a graduate of the National College of Art and Design, Dublin with a degree in honours degree in Fine Art Painting (1983). Awarded a Fulbright scholarship to New York in 1989 to research Irish emigration to America for her exhibition JOURNAL. She has had many solo exhibitions and shown in selected group exhibitions throughout Ireland, America, Australia, France, Belgium, Sweden, England and Poland. A former board member and chairperson of Graphic Studio Dublin. In 2004 she was elected to Aosdána for her contribution to the arts in Ireland.
Her artwork is held in many public and private collections such as National Gallery of Ireland, Chester Beatty Library and Museum, IMMA, Office of Public Works, University of Tasmania, An Gorta Mor/The Great Hunger Museum at Quinnipiac University USA, Boston College. She has held a number of important residencies such as Banff Centre for the Creative Arts, Canada, McDowell Colony, New Hampshire, USA, University of Tasmania, Australia.
A series of her photo etchings titled THE DESERTED VILLAGE was purchased by Quinnipiac University, Connecticut, USA for the launch of their new museum The Great Hunger Museum/an Gorta Mor – dedicated to the Irish famine.  This series is part of the exhibition COMING HOME- Art and the Great Hunger which toured Ireland in 2018/19.
She was selected for the exhibition CIALL/SENSE in April 2011 at the Aislann Centre, Gweedore, Donegal where she was awarded the judge's prize.
In October 2011 she was awarded % for art commission by Offaly County Council to produce artwork based on the Grand Canal. She created an exhibition in a box that explored the working life of the canal and its relationship to Co Offaly. The exhibition contained a series of 7 etchings/photo etchings accompanied by specially designed easels to display the artwork in any setting. The artist created 3 exhibition boxes. The commission required the involvement of local communities and individuals in County Offaly in the research phase.
She was commissioned by the Arts Office, Dublin City Council Arts Office as part of their Public Art Programme in January 2013. She designed drawings based on the theme of 'Weeds are Plants too!  for the utility boxes, Fade Street, Dublin 2, as part of its refurbishment.  Weeds are Plants Too! was originally a drawing workshop specifically designed by O'Reilly which explored plants considered weeds. The workshop was part of the Art and Ecology Seminar at St Anne's Park, Raheny, Dublin, 2011.
She was selected to make work for an exhibition celebrating 400 years of the Franciscans in Louvain, Belgium and Ireland's presidency of the EU. The exhibition was titled SHAPING IDENTITIES TOGETHER/AG CRUTHU LE CHEILE. It transferred to the National Print museum, Dublin in August 2013.
In May 2014 she exhibited at the Lab, Foley Street, Dublin in a two-person exhibition titled OF SPACE AND PLACE. The exhibition was accompanied by an essay by Professor Luke Gibbons, National University of Ireland at Maynooth, Co Kildare.
She completed a residency at the Irish College, Paris, France in July 2013.  In August 2014, O'Reilly was at the Ballinglen Arts Foundation in County Mayo. Her work featured in the volume on ART AND ARCHITECTURE – A 5 Volume set published by the Royal Irish Academy.
In November 2014 she was selector/curator for the annual open submission exhibition at the Dunamaise Arts Centre, Portlaoise 2014 and in July 2015 she was selector/curator for the Birr Arts Festival. In July 2015 she was selected to exhibit at the Burren School of Art Gallery in an exhibition POSTSCRIPT and was artist in residence at Aras Eanna, Inis Oirr, Aran Islands, in May 2015.
In March 2016 she exhibited a suite of new etchings and 3d prints for a three-person exhibition titled FRAGMENTS, METAPHORS AND SMITHEREENS at the Graphic Studio Dublin, Temple Bar, Dublin.  The artwork was based on research undertaken whilst artist in residence at the Centre Cultural Irlandais/The Irish College, Paris.
In 2015, she was selected to create a suite of new drawings based on the life and work of Dr Kathleen Lynn who was responsible for setting up the first infant hospital (St Ultan's) in the 26 counties.  The exhibition, KATHLEEN LYNN –INSIDER ON THE OUTSIDE, curated by Catherine Marshall, opened in the Linenhall Arts Centre, Castlebar, Co Mayo as part of the 1916 anniversary celebrations. She made a short documentary with RTE television as part of their 1916/EVERY COUNTY HAS A STORY/MAYO which can be viewed on Youtube.
O'Reilly has been on the Dublin City Council Artist panel for the past 4 years where she has given workshops as part of the 'Art in the Library' series. She has also given workshops for National Drawing Week and the Bealtaine Festival. Over 30 years O'Reilly has initiated and worked on many projects with groups, communities and institutions. O'Reilly has also worked as a lecturer in painting at National College of Art, Art tutor at Ballyfermot College of Further Education, Art Teacher at Arbour Hill Prison, given master classes in life drawing at the Royal Hibernian Academy, and taught drawing at the National Gallery of Ireland.
In 2017 O'Reilly won a % for art commission to make an artwork for the new national school St Joseph's National School, Rathwire, Killucan Co Westmeath.  The commission 'A Sense of Place' was launched in March 2019. The commission through a series of 8 large woodblock prints explores the folklore, history, architecture and archaeology of the area. The children of 6th class were involved working with the artist in the initial research phase through a series of  painting workshops held over four weeks – this art work will also feature as part of the commission.
O'Reilly is presently working on a collaboration with poet Mary O'Donnell. She is illustrating 10 poems which will be printed at Graphic Studio Dublin Workshop. The project will be presented as a series of limited edition prints in specially bound folders. The project will be launched in 2019. The project is grant aided by Westmeath County Council. O'Reilly is also working on a Creative Ireland funded project for Heritage week 2019. The project is called 'The Family Album Project'.