Visual Arts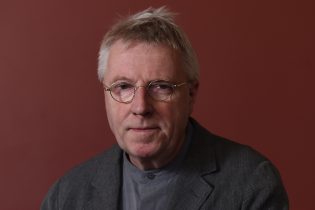 Hughie O'Donoghue
Elected to Aosdána in 2013, Hughie O'Donoghue was born in Manchester, England. He has exhibited his work in Dublin, London and internationally since the early 1980s. He was Artist in Residence at the National Gallery, London in 1984/85 and at St John's College, Oxford in 2000.
He lived and worked County Kilkenny from 1005 – 2009 and is currently based in Erris, Co. Mayo and London. He is represented extensively in public collections throughout the world and in particular depth at the Museum of Modern Art, Dublin where he has had two solo exhibitions.
Exhibitions include the Road at Dox Museum, Prague in 2011; The Journey, Leeds City Gallery, 2009; Lost Histories: Imagined Realities, Gemeentemuseum, The Hague 2008; and Parable at the Centre Culturel Irlandais Paris in 2008.
He was awarded an Honorary Doctorate from NUI Cork in 2005 and elected Royal Academician in 2009. He is represented by Oliver Sears Gallery, Dublin and Marlborough Fine Art, London.
Recent exhibitions: 2010  RA Summer Exhibition, London, RHA Summer Exhibition, Dublin, invited artist Retrospective, Visual, Carlow; Now and Then, Oliver Sears Gallery, Dublin. 2011  Afterlife Fitzwilliam Museum, Cambridge. Black and White, Oliver Sears Gallery, Dublin. 2012  Radharc, Oliver Sears Gallery, New York. 2013  A Need for Gardens, Westminster Abbey, London