Architecture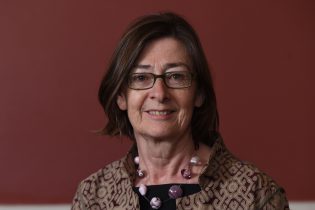 Sheila O'Donnell
Born in Dublin in 1953, Sheila O'Donnell graduated from UCD Architecture in 1976 when she moved to London for work and further study. In 1980 she was awarded a Masters Degree from the Royal College of Art London.
She established O'Donnell + Tuomey Architects in Dublin with John Tuomey in 1988.
The work of the practice has won numerous awards nationally and internationally and has been widely published and exhibited. In 2010 they won the AAI Downes Medal for the 7th time. They represented Ireland at the Venice Architectural Biennale in 2004, and were part of the Irish group show in the 2008 Biennale.
The use of watercolour studies of context and building form has characterised her recent work. Her watercolour studies have been exhibited in the Royal Academy in London and in the Royal Hibernian Academy.
Current work includes the design of two significant buildings in Central London: a new Students' Centre for the London School of Economics and The Photographers' Gallery in Soho. Completed buildings include An Gaeláras, Cultural Centre for the Irish Language, Derry; The Timberyard Social Housing on Cork Street, Dublin; The Irish Film Institute, Dublin; Ranelagh School, Dublin and the Sean O'Casey Community Centre, East Wall, Dublin.
She is a studio lecturer in UCD and a visiting teacher and examiner in many schools of architecture in Europe and America.
In 2010 she was elected an Honorary Fellow of the American Institute of Architects, for distinguished achievement in architectural design at an international level.
For further information: www.odonnnell-tuomey.ie