Visual Arts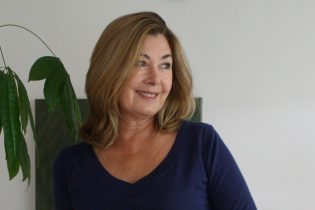 Eilis O'Connell
Eilis O'Connell was born in Derry, Northern Ireland in 1953. She studied at the Crawford School of Art, Cork (1970-1974), Massachusetts College of Art, Boston (1974-75), and again at the Crawford (1975-77). Her awards include the GPA award for emerging artists (1981); the British School at Rome (Arts Council of Northern Ireland Fellowship, (1983-84); the P.S.1 New York Fellowship (1987-88); the Art and Work Award, Wapping Arts Trust (1996) and the Royal Society of Arts, London (1998). In 1988 she won a two year residency at the Delfina Studios Trust in London and lived there until 2001.
She has exhibited widely since the early 70s, with numerous solo and group shows. She has built up her career through public commissions with over 30 large scale works sited to date, the majority of which are in the U.K. The most significant commissions are Secret Station, a sculpture in bronze fibre-optics and steam for Cardiff Bay Arts Trust sited at the Gateway Cardiff in 1992; Vowel of Earth dreaming its Root, a large outdoor sculpture in Kilkenny limestone for the London Docklands Development Corporation in the Isle of Dogs; and Pero's Footbridge for Bristol Chamber of Commerce designed in collaboration with Ove Arup Engineers in 1999. In 2002 she exhibited a large outdoor bronze from the Goodwood collection at the Venice Biennale, and the Guggenheim Museum.
A ten year survey of her work was held at Arnolfini Gallery in 1999. She is a founder member of the National Sculpture Factory, Cork and a former member of the Arts Council and is an associate member of the R.H.A. She lives and works in Co. Cork.