Music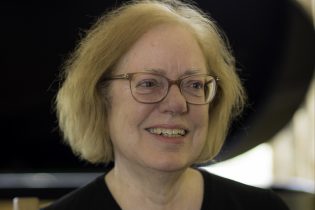 Jane O'Leary
Jane O'Leary was born in Hartford, Connecticut (1946) and has lived in Ireland since 1972. She holds a Ph.D. in composition from Princeton University and completed a B.A. at Vassar College. She has been a leading figure in the promotion, performance and composition of new music in Ireland. As artistic director and pianist of Ireland's new music ensemble Concorde since 1976, she has performed numerous premieres throughout Europe and presented new music in most European capitals, Eastern Europe, Hong Kong, America, and throughout Ireland.
A member of the Arts Council from 1998-2003, she has also served as Chairman of the Contemporary Music Centre and has been a member of the Board of the National Concert Hall. She was Composer-in-Residence at the Royal Irish Academy of Music in Dublin from 2000-2003 and taught composition at DIT Conservatory of Music and Drama until 2012.  In June 2007 she was awarded an honorary Doctor of Music Degree by the National University of Ireland.
Her music has been featured in programmes on RTE lyric fm and the Dutch radio station VARA, where she was Composer of the Week, and is widely broadcast worldwide.  Jane's music has been selected on numerous occasions for performance at the ISCM World New Music Days and has been performed at prestigious international festivals and venues, including the Kennedy Center, Washington DC; the Lincoln Center and Carnegie Hall, NY; the Chicago Cultural Center; Centre Culturel Irlandais, Paris; Spitalfields Festival, London; West Cork Chamber Music Festival. The RTÉ National Symphony Orchestra selected her composition From Sea-Grey Shores for performance on their debut American tour in 2003, and her quartet, the passing sound of forever, was selected from over 1,100 submissions for performance at the Mise-En Music Festival 2017 in New York City.
While featured on numerous compilation CDs both as a performer and a composer, a CD of music by O'Leary was released on the Capstone label in 2007, In the Stillness of Time.  In 2017 a CD of her chamber music was released by Navona Records, featuring performances by ConTempo Quartet and Concorde.
Her music has been performed by the RTÉ Vanbrugh String Quartet, the Paul Klee String Quartet, Venice, ConTempo String Quartet, Amstel Saxophone Quartet, Netherlands, RTÉ National Symphony Orchestra, Camerata Ireland, Irish Chamber Orchestra, Philharmonic Orchestra of Bacau, Romania, pianists John O'Conor, Rolf Hind, Isabelle O'Connell, Finghin Collins and Robert Taub, instrumentalists Garth Knox, Harry Sparnaay, Carla Rees, Paul Roe, John Feeley, and many more. In 2007 she completed a commission for the group Accessible Contemporary Music in Chicago as part of their Composer Alive! programme with a premiere at the Chicago Cultural Center.
As a founder and former Artistic Director of Music for Galway and a Director of The Galway Music Residency, she is also deeply commited to the development of music in the West of Ireland.