Literature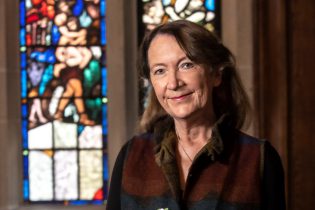 Éilís Ní Dhuibhne
Éilís Ní Dhuibhne was educated in Dublin, at UCD and at the University of Copenhagen. She has a BA, an M.Phil in Middle English, Old and Middle Irish and a Ph.D in Irish Folklore. She has published four collections of short stories, four novels, five books for children, two plays and much non-fiction work. Most of her original work is in English with a novel and two plays in Irish.
Her fiction has been translated into German, Italian, French, Russian and Slovenian: Blood and Water – short stories, Attic Press Dublin 1988; The Bray House – novel, Attic Press, 1990; Eating Women is Not Recommended – short stories, Attic Press, 1991; Singles – novel, Attic Press, 1992; The Inland Ice – short stories, Blackstaff press Belfast, 1999; The Dancers Dancing – novel – Blackstaff Press 1999, London Headline Review, 2001- shortlisted for Orange Prize for Fiction. The Pale Gold of Alaska – short stories, Blackstaff Press 2000, London Headline Review, 2001; Dúnmharú sa Daingean – novel, Clo Cois Life, Dublin 2000, which was awarded the Oireachtas Prize for Novel in Irish.
Drama – Milseóg an tSamhraidh – two plays, Cois Life 1997 – performed by Amharclann de Híde at the Dublin Theatre Festival 1997. The same company performed Dún na mBan trí Thine at the Peacock Theatre in 1994, where The Nettle Spinner was produced in 1998.
Children's Fiction (all Poolbeg) – The Uncommon Cormorant (1990); Hugo and the Sunshine Girl (1991); under the pseudonym Elizabeth O'Hara – The Hiring Fair (1993); Blaeberry Sunday (1994); Penny Farthing Sally (1996).
Awards include Arts Council Bursaries in Literature, Listowel Writers Week Poetry Award, Bisto Book of the Year Awards, Stewart Parker Playwright's Award and The Butler Award for Prose (Irish American Cultural Institute).