Literature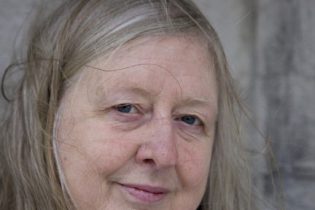 Eiléan Ní Chuilleanáin
Born in Cork in 1942, Eiléan Ní Chuilleanáin studied at University College Cork, and at Oxford University. Her collections of poetry include Acts and Monuments (1972), which won the Patrick Kavanagh Award in 1973; Site of Ambush (1975); The Second Voyage (1977); The Rose Geranium (1981); The Magdalene Sermons (1989), which was nominated for the European Literature Prize in 1992; The Brazen Serpent (1994); and The Girl Who Married the Reindeer (2001). She won the O'Shaughnessy Prize for Poetry from the Irish-American Cultural Institute in 1992. The Sun-fish was shortlisted for the T.S. Eliot Prize in 2009, and received the Griffin International Poetry Prize in Toronto in 2010. The Boys of Bluehill was shortlisted for the Forward Prize and the Pigott Prize. The Mother House won the Irish Times/ Poetry Now Award, 2020. She was awarded the 1573 International Poetry Prize, 2020, at the Luzhou International Festival of Poetry and Liquor, and a volume, Lucina Schynning in Silence of the Nicht (poems translated into Chinese),  appeared from Sichuan Ethnic Publishing Company, Chengdu, in 2020. Her Collected Poems won the Pigott Prize, 2021.
In 1975 she co-founded Cyphers, a literary magazine, with Pearse Hutchinson, Macdara Woods and Leland Bardwell, and continues to edit it. She is a fellow of Trinity College, Dublin, where she taught English from 1966 to 2011; she also teaches on courses in literary translation and comparative literature. She was Ireland Professor of poetry, 2016-19.
She has translated poetry from several languages: The Water Horse from the Irish of Nuala Ní Dhomhnaill, with Medbh McGuckian, Verbale/Minutes/Tuairisc from the Italian of Michele Ranchetti, with Cormac Ó Cuilleanáin, After the Raising of Lazarus and Legend of the Walled-up Wife from the Romanian of Ileana Malancioiu. File ar Fhile: Dánta Antonella Anedda A volume of poems by Antonella Anedda, translated from Italian into Irish, was published by Cois Life, 2019.
Eiléan was married to the poet Macdara Woods (1942-2018), she has one son, Niall. She lives in Dublin and sometimes in Umbria.
Photo Credit: Patrick Redmond, Wake Forest University Press.