Architecture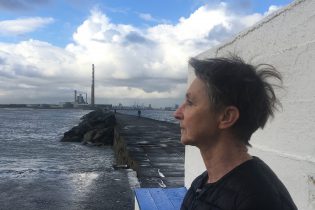 Valerie Mulvin
Valerie Mulvin is a co-founder (with Niall McCullough) of McCullough Mulvin Architects – a Dublin-based collaborative  practice making modern architecture in Ireland. She is one of a generation of Irish architects who through their work, teaching and research in Ireland and Europe have brought a new spirit of architecture to Ireland  which has been influential in forging a new architectural culture in Ireland since the early 1990s.  Her work has pursued two threads – one based on a European view of the city and its significance in the lives of citizens, an inclusive view of history and layering, to ground new architectural work in its place and context, and in particular to create an architecture of juxtaposition of new and old.  A parallel thread involves work and research in the Irish landscape, developing a way of responding to context to make appropriate forms and places.
Valerie graduated from UCD School of Architecture with First Class Honours in 1981. She  spent a year in Rome on a post-graduate scholarship. On her return to Ireland she collaborated with Niall McCullough on A Lost Tradition, the nature of architecture in Ireland  (Gandon Editions, Dublin 1987), a seminal book since its publication.  She founded McCullough Mulvin Architects in 1985.
She was part of Blue Studio Dublin, and Group 91. As part of the competition winning Temple Bar Framework Plan (1991) she designed and built Temple Bar Gallery & Studios and Black Church Print Studio.
She has worked on many competition-winning buildings including Dun Laoghaire-Rathdown County Hall, Model and Niland Gallery Sligo, Ussher Library TCD, Printing House Square Student Housing TCD, Grangegorman RCN. She designed the Long Room Hub in Trinty College, The Source Arts Centre and Library in Thurles, City Library Waterford, Bessboro Child Psychiatric Unit and Waterford Fire Station.  In UCC she designed Beaufort Maritime Research building, and Crow's Nest Housing and Health Centre(under construction).
Since 2015 she has also been working internationally: in India, on new University buildings at Thapar University, Punjab, where the Learning Laboratory (Library, Science Faculty, Lecture Halls) is just completed, and in London, at Brentford  Waterside project.
In 2015, the work of the practice was documented for an international audience by the publication of a monograph by TC Cuadernos 'McCullough Mulvin Arquitectura 2004-2015'.
Valerie's work is extended by publication, teaching and research: she is about to publish Approximate Formality – Morphology of Irish Towns, based on a M.Litt thesis(TCD).
As part of McCullough Mulvin Architects, her work has been exhibited widely in Europe, Asia and America,  including Lives of Spaces Venice Biennale 2008; Displaced Longitude, Sao Bento metro station (Alvaro Siza) Porto, Portugal 2017, utilising film and projection to reach a wider audience -exhibition travelled to Valencia, Spain and Ahmedabad, India  during 2018/19, supported by Culture Ireland.
Her work has features in Mies van der Rohe Prize shortlist 2005, 2011, 2017, 2019;  World Architecture Festival 2009, 2010 and 2018, Prague Quadrennial 2007, Lisbon Triennale 2007, as well as numerous RIAI and AAI awards.
Valerie has lectured widely on the practice's work in Ireland, India, Spain, Germany, Norway, the UK, Czech Republic, Portugal. During lockdown she has been a panellist on a number of webinars including Belfield 50, Inspiring Architecture@Trinity; and the  RIBA's Global Architecture Webinar series.
She has been involved in teaching and examining in Ireland, the UK and Europe.
Working as an architect is a collaborative process, buildings are made over a long period of time with multiple contributions from committed and passionate people within the team. This CV acknowledges the contributions of all the people who have worked within the practice over its existence.
Valerie Mulvin. B Arch (1981) University College Dublin, M Litt Urban Studies (1991) Trinity College Dublin.
Fellow of the Royal Institute of Architects in Ireland.
Member of the Royal Institute of British Architects
RIAI accredited Conservation Architect Grade 1.
www.mcculloughmulvin.com