Literature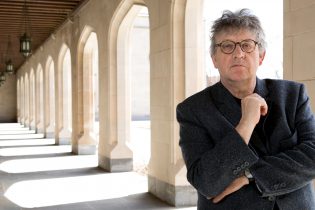 Paul Muldoon
Paul Muldoon is an Irish poet and professor of poetry, as well as an editor, critic, playwright, lyricist and translator.
Born in 1951 in Portadown, Co. Armagh, Northern Ireland, to Patrick Muldoon, a farm labourer and market gardener, and Brigid Regan, a schoolteacher, Paul Muldoon was brought up near a village called The Moy on the border of Counties Armagh and Tyrone. He is the oldest of three children. After studying at Queen's University, Belfast, he published his first book, New Weather (Faber) in 1973, at the age of 21. From 1973 he worked as a producer for the BBC in Belfast until, in the mid-1980's, he gave up his job to become a freelance writer and moved to the United States with his second wife, the American novelist Jean Hanff Korelitz. He now lives in New York City and Sharon Springs, New York.
Muldoon is the author of twelve major collections of poetry, including One Thousand Things Worth Knowing (2015), Maggot (2010), Horse Latitudes (2006), Moy Sand and Gravel (2002), Hay (1998), The Annals of Chile (1994), Madoc: A Mystery (1990), Meeting the British (1987), Quoof (1983), Why Brownlee Left (1980), Mules (1977) and New Weather (1973). He has also published innumerable smaller collections, works of criticism, opera libretti, books for children, song lyrics and radio and television drama. His poetry has been translated into twenty languages.
Muldoon served as Professor of Poetry at Oxford University from 1999 to 2004 and as poetry editor of The New Yorker from 2007 to 2017. He has taught at Princeton University since 1987 and currently occupies the Howard G.B. Clark '21 chair in the Humanities. In addition to being much in demand as a reader and lecturer, he occasionally appears with a spoken word music group, Rogue Oliphant. With his wife, American novelist Jean Hanff Korelitz, he adapted James Joyce's "The Dead" as an immersive, site-specific play, "The Dead, 1904," which was produced by the Irish Repertory Theatre and Dot Dot Productions, LLC, for seven-week runs in 2016 and 2017.
Paul Muldoon is a Fellow of the Royal Society of Literature, the American Academy of Arts and Sciences and the American Academy of Arts and Letters. In addition to the Pulitzer Prize, he has received an American Academy of Arts and Letters award in literature, the 1994 T. S. Eliot Prize, the 1997 Irish Times Poetry Prize, the 2003 Griffin International Prize for Excellence in Poetry, the 2004 American Ireland Fund Literary Award, the 2004 Shakespeare Prize, the 2006 European Prize for Poetry, and the 2017 Queen's Gold Medal for Poetry. He is the recipient of honorary doctorates from ten universities.