Visual Arts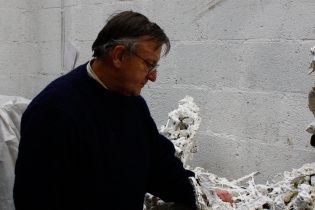 Paul Mosse
Born in Kilkenny, where he still lives, Paul Mosse studied at The Chelsea College of Arts in London. He has won several awards for his work since he won the Carroll's Prize in "Living Art" in 1968 through to being the recipient of an Arts Council Artist's Bursary in 2005.
He was Artist in Residence at Ballinglen Arts Foundation in Ballycastle, Co Mayo and his works are included in many private and public collections, including Allied Irish Bank, Butler Gallery Kilkenny, IMMA, Trinity College Dublin and Crawford Municipal Gallery.
He has exhibited throughout Ireland, as well as in Paris, London and Brussels. Recent exhibitions include Green on Red Galleries in Dublin ('Amor Infiniti' 2005), Cologne (2004 Cologne Art Fair) and New York ('The Armory Show' 2002). In Ireland he has exhibited in The Courthouse Gallery Ballinglen, IMMA, Gallery One Kilkenny and the Fenton Gallery, Cork.
Photo credit: John Mosse.