Visual Arts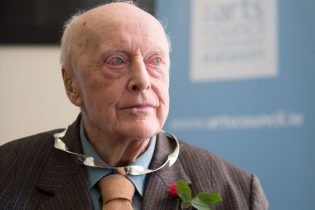 George Morrison
George Morrison is a film-maker and photographer who has influenced documentary film makers globally. His films Mise Éire (1959); Saoirse (1961) and Rebellion (1963) are considered classics by his peers. Other very fine work includes: These Stones Remain (1971) and the maritime film Two Thousand Miles of Peril (1972).
He has developed many techniques that have become standard and vital in the industry and as recently as 2000, he designed a post graduate Masters Degree Course in Motion Picture Arts. He has also worked in the field of Ambiances Sonores. His latest film, which he has scripted, edited and directed, is called Dublin Day and is a 50-minute documentary on the city of Dublin as it was in James Joyce's time and today.
A native of County Waterford, George Morrison first became interested in photography in 1934, creating throughout his lifetime a large body of still photographs in both black and white and colour relating to antiquities, food, industry, architecture and landscape. In 1942 he directed and photographed his first film (16mm) Dracula, with Aidan Grennell and Eileen Cullen. The film could not be completed due to wartime stock shortage. In 1946 he became interested in actuality films, later working as Assistant Director and Film Editor with MacLiammoir – Edwards Productions.
He has served on the Council of Designers of Ireland and in 1957 he became the Founder Member and Vice President of the Inaugural Congress of the Bureau International de Recerche Historique Cinématographique, Paris.
He was elected a Saoi of Aosdána in 2017 and presented with the symbol of the office of Saoi, the gold torc, by President Michael D. Higgins.