Music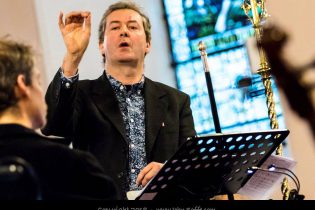 John McLachlan
John McLachlan was born in Dublin and studied music at the Royal Irish Academy of Music and Trinity College, Dublin. He has studied composition with William York, Robert Hanson and Kevin Volans. He holds a PhD in musicology from Trinity College Dublin, where he specialised in researching the compositional techniques of Boulez, Xenakis, Lutoslawski and Carter.
His works have been performed in the USA, Peru, Japan, South Africa, Britain, France, Germany, Holland, Switzerland, Italy, Finland, Denmark, Portugal, Spain, Romania, Moldova, Slovenia, Croatia, and around Ireland, with broadcasts in several of these countries. Performers who have played his music include the National Symphony Orchestra of Ireland, Opera Theatre Company, the National Chamber Choir, Concorde, Sequenza, Traject, Archaeus, Pro Arte, Antipodes, Ensemble Nordlys, The Fidelio Trio, The ConTempo Quartet and Trio Arbós as well as many prominent soloists including Ian Pace, John Feeley, Mary Dullea, Darragh Morgan, Satoko Inoue and David Adams. Commissioners include the RTE NSO, Music Network, Lyric fm, the Dublin International Piano Competition, Donegal Music Education Partnership, the Musica Viva Festival and the National Concert Hall.
His music has been included on the following recordings: Association of Irish Composers (AIC) CD 1, Contemporary Music Centre (CMC) CD 4 and CD9, Irish Contemporary Organ Music (David Adams), Islands (John Feeley, guitar), Gothic (Mary Dullea, piano), Contemporary Irish (the Dublin Guitar Quartet) and RIAM piano syllabus CDs; many of his pedagogical piano works have been published by the Royal Irish Academy of Music in their piano syllabus anthologies.
He is also known as a broadcaster and writer on contemporary music, with many published articles. In addition, in his roles as Executive Director of the Association of Irish Composers and administrator of the Irish Composition Summer School, he has promoted Irish composers in an international context, presented international composers in Ireland, and run concerts, workshops, mentoring programmes and other events.
His music is available from the Contemporary Music Centre www.cmc.ie. His website is www.johnmclachlan.org