Literature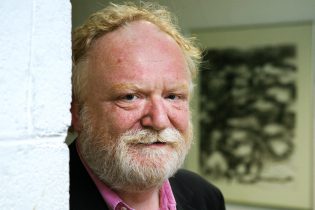 Frank McGuinness
Frank McGuinness was born in Buncrana, Co. Donegal, in 1953.
His plays include The Factory Girls (1982), Baglady/Ladybag (1985), Observe the Sons of Ulster Marching Towards the Somme (1985), which won the Evening Standard Award for most promising playwright, Innocence (1986), Carthaginians (1988), Mary and Lizzie (1989), The Bread Man (1990), Someone Who'll Watch Over Me (1992), The Bird Sanctuary (1994), Mutabilitie (1997), Dolly West's Kitchen (1999), Gates of Gold (2002), The Stone Jug (2003), There Came A Gypsy Riding (2007), Greta Garbo Came To Donegal (2010), The Match Box (2012), Crocodile (2010), The Hanging Gardens (2013), and Donegal (2016). Speaking Like Magpies premiered at the Royal Shakespeare Company, Stratford-Upon-Avon in 2005. He has also written award-winning plays for television.
His first collection of poetry, Booterstown, was published in 1995, and was followed by The Sea With No Ships (1999), Dulse (2007), In A Town Of Five Thousand People (2012), and The Wedding Breakfast (2019). He has adapted plays by Lorca, Ibsen, Chekov, Piradello, Sophocles, Euripides and Brecht. His works of fiction include Aramathea (2013), The Woodcutter And His Family (2017), and Paprika (2018).
He has taught at various Irish colleges and universities, and is currently lecturing in English at University College Dublin. He lives in Co. Dublin.
Photo credit: Dominic Martella, UCD.