Literature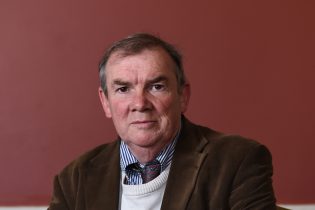 Thomas McCarthy
Born in Cappoquin, Co. Waterford in 1954, Thomas McCarthy studied at University College Cork.
His poetry collections include The First Convention (1978), which won the Patrick Kavanagh Award, The Sorrow-Garden (1981), The Non-Aligned Storyteller (1984), Seven Winters in Paris (1989), The Lost Province (1996), and Mr. Dineen's Careful Parade, New & Selected Poems (1999).
He has published two novels, Without Power (1991) and Asya and Christine (1992). He has also published a memoir, Gardens of Remembrance (1998).
Other awards include the Alice Hunt Bartlett Prize (1981), the Ireland Funds' Annual Literary Award (1984), and the O'Shaughnessy Poetry Award from the Irish-American Cultural Institute (1991).
A new novel, Without Memory, is due for publication shortly.
For many years he worked as a librarian in Cork City Library, and in 1994-95 he was Humphrey professor of English at Macalester College in Minnesota.