Visual Arts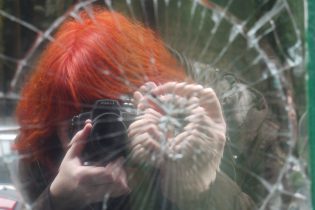 Trish McAdam
Mostly self taught, filmmaker and visual artist Trish McAdam began working in film in the eighties with music/slides shows, including "New York" and "Heroin", screened pre-gigs in live music venues, followed by a number of short super 8mm and 16mm films including "The Drip" and "Berlin". As a founder member of Temple Bar Studios, she co created the Ha'Penny film Club. In 1997, her first feature, "Snakes and Ladders", screened at Sundance, Toronto, HOF and San Sebastian Film Festivals. After residencies in Nipkow, Berlin, and the Irish Cultural Centre, Paris, she made a number of documentaries including "Hoodwinked" about the history of Irish women since 1922, now housed by the Irish Film Institute as "The Hoodwinked Collection". Since 2009 she has made a number of charcoal animation film installations including "Rough Time", "Caged Bird Sings", "No Enemies – Liu Xiaobo" and "Strangers of Kindness". She recently completed an MA in Visual Arts Practice, and had her first solo show in The Butler Gallery.
Trish was founding chair of The Screen Directors Guild (2001- 2007) and Vice President on the executive committee of FERA, Federation of European Directors' Organisations, (2006 – 2010).
Trish is currently working on a short animation film installation, "Confinement", and, as writer/director, on an international cinema feature, "The End of Romance", based on the life of Maud Gonne and W.B Yeats.