Music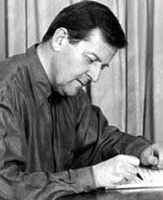 Philip Martin
Born in Dublin in 1947, Philip Martin studied with Louis Kentner, Mabel Swainson, Franz Reizenstein, Lennox Berkeley and Richard Rodney Bennett. He held the UK-US Bicentennial Arts Fellowship in 1981 and has been a guest at the Boston Symphony Orchestra's Tanglewood Summer School, giving master classes and recitals.
Among other works, he has written two piano concertos, a harp concerto that was featured at the World Harp Congress in Seattle in 1996 and the 9th World Harp Congress in Dublin in 2005, seven piano trios and more than 300 songs. Thalassa (1991-92) – a large-scale work featuring several choirs, winds, horns, strings and traditional Irish musicians – was written over three months in Galway for community celebrations of the Atlantic seaboard.
Recent major works include In Dublin's Fair City, a work commissioned by the Dublin Chamber of Commerce to celebrate the millennium, which features vocal soloists, chorus and orchestra. His first symphony for the National Symphony Orchestra of Ireland, Symphony No. 1 was performed in 2004.
He has recorded two CD's of chamber music and songs on the Altarus label, and one of symphonic music in the Irish composers series for Marco Polo. His 3rd piano concerto receives its premier in February 2006 with the National Symphony Orchestra of Ireland with composer as soloist.
He teaches piano and composition at the Birmingham Conservatoire, and is a Fellow of the Royal Academy of Music in London.