Visual Arts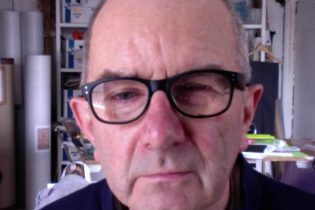 Fergus Martin
Born in Cork in 1955, Fergus Martin studied at Dun Laoghaire School of Art.
From 1979 – 1988 he lived in Italy, where he lectured in English Language at the University of Milan. He returned to painting in 1988 and had his first solo exhibition at Oliver Dowling gallery, Dublin.  Since then, he has exhibited widely in Ireland and internationally and his work is included in many private and public collections, including those of the Irish Museum of Modern Art; Dublin City Gallery The Hugh Lane; Crawford Municipal Gallery of Art, Cork; the Arts Council; the Office of Public Works.   Fergus also attended the New York Studio School of Drawing, Painting and Sculpture in 1991.
Awards include The Irish American Cultural Institute O'Malley Award (2014); the Curtin O'Donoghue Photography Prize, RHA Annual Exhibition (2010); The Pollock Krasner Foundation, New York, Award (1999 and 2006.); The Marten Toonder Award, awarded by The Arts Council, in 1999
Fergus Martin's most recent exhibition was Fergus Martin Then and Now at the Irish Museum of Modern Art in 2019.  He has also been commissioned by the Office of Public Works to design a new sculpture for the grounds of The Royal Hospital/Irish Museum of Modern Art.  This is to replace his sculpture, Steel, 2008, that had been commissioned for the East Gate entrance of the RHK/IMMA, but was destroyed following a vehicular accident in 2011.
In 2019 he was commissioned by the Department of Foreign Affairs to design a sculpture for the International Criminal Court in The Hague.  Other sculpture commissions include Lincoln Place, for the Dublin Dental Hospital, in 2010
Martin was part of the collaborative duo Fergus Martin & Anthony Hobbs, and during 2013, took part in exhibitions in Dublin – an installation in the courtyard of The Irish Museum of Modern Art – and at BOZAR, Brussels, to mark Ireland's EU presidency.  Martin & Hobbs exhibited in Dublin and Venice and in also took part in the 6th Biennal of Contemporary Art in Melle, France in.  Their work is in the collections of the Irish Museum of Modern Art and the Arts Council of Ireland, and Ville de Melle, France.
Fergus Martin is represented by Green on Red Gallery, Dublin
Website: www.fergusmartin.com