Visual Arts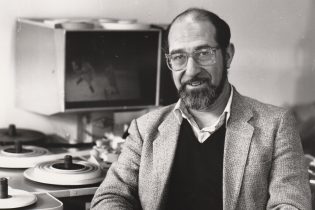 Louis Marcus
Born in Cork in 1936, Louis Marcus is a graduate of UCC. Active in the Cork Branch of the Irish Film Society, he was founder/editor of its journal, Guth na Scannán.  He began his film career in Dublin in 1958 as assistant editor on Mise Éire  and Saoirse?, and made his own first film in 1959 on the sculptor, Seamus Murphy RHA.
From 1960 to 1973 he made short cinema documentaries for Gael-Linn, and went on to work for television and corporate patrons.  His subjects have included social life, Irish traditions, history and the arts.
He has made in all over 80 documentaries winning 20 international festival awards, including the Silver Bear of the Berlin Film Festival, prizes at Moscow, London, Chicago and Oberhausen, and two Academy Award Nominations.
His cinema work has had international distribution through United Artists and Columbia Pictures;  his television work has appeared on RTÉ, TG4, Ulster Television and Channel Four, with distribution by Thames Television International.
In 1995 he received the Irish Film Institute's Annual Award, and at the 50th Cork Film Festival in 2005 he received a Lifetime Achievement Award and a retrospective of his work.  In 2011 he received the Screen Directors Guild of Ireland/Foras na Gaeilge award for outstanding work in the Irish language.
He was elected to the Hollywood Academy of Motion Picture Arts & Sciences, and is an honorary member of the Royal Hibernian Academy.
Over the years he has served on several state arts boards and committees, including the Abbey Theatre Shareholders, the Foreign Relations Committee and the Arts Council, and is a former Chairperson of Bord Scannán na hÉireann/Irish Film Board.
Since retirement from filmmaking, he has devoted his time to drawing and painting, mainly in soft pastels and oils.  His work is shown every year at the RHA Annual Exhibition, with a first solo exhibition of oil paintings at the Light House Cinema, Dublin, in 2018.