Literature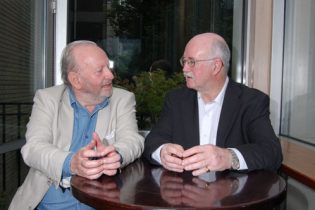 Derek Mahon
Photo: Derek Mahon with Peter Fallon. Photo credit: Suella Holland, The Gallery Press
Born in Belfast in 1941, Derek Mahon was educated at Trinity College Dublin and the Sorbonne.
He worked as a journalist and screenwriter in Dublin and London, adapting Irish novels for television, and taught at Barnard College, New York and New York University.
His poetry collections include The Hudson Letter (1995), The Yellow Book (1997), Collected Poems (1999), Harbour Lights (2005) (Winner of the Irish Times Poetry Now Award 2006), Adaptations (2006), Life on Earth (2008, winner of the Irish Times Poetry Now Award), An Autumn Wind (2010), New Collected Poems (2011), Raw Material (2011, a selection of translations), Selected Prose (2012), Echo's Grove (2013, selected and new translations), Red Sails (2014, prose), New Selected Poems (2016), Olympia and the Internet (2017 essays), The Rain Bridge (2017), A Story for Rory, illustrated by Sarah Iremonger, Against the Clock (2018) which won The Irish Times Poetry Now Award and Washing Up, due for publication on 29 October 2020.. He translated plays and poetry by Sophocles, Euripides, Racine, Molière, Nerval and Philippe Jaccottet; the latter work won the C.K. Scott Moncrieff Translation Prize.
He received numerous awards including the Irish Academy of Letters Award, the Scott Moncrieff Translation Prize, and Lannan and Guggenheim Fellowships. In recognition of his 'lifetime's achievement' Derek Mahon received the David Cohen Prize for Literature in 2007. His work for the theatre included versions of Moliere's The School for Wives and High Time, Racine's Phaedra, The Bacchae (after Euripides), Cyrano de Bergerac (a new version of Rostand's 'heroic comedy') which was produced at London's National Theatre in 2004 and Oedipus (after Sophocles) which was published in 2005. In 2013 his collected plays, theatre, was published. Limited Signed Editions also appeared from The Gallery Press: Somewhere the Wave with drawings and watercolours by Bernadette Kiely (2008) and Rising Late with paintings and drawings by Donald Teskey (2017).
He lived in Kinsale, Co. Cork.