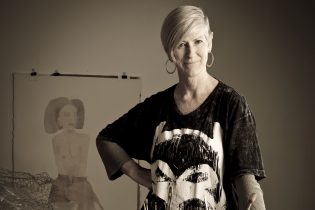 Alice Maher
Born in Co. Tipperary in 1956, visual artist Alice Maher was educated at the University of Limerick, Crawford College Cork, University of Ulster and San Francisco Art Institute, which she attended as a Fulbright scholar.
Alice Maher is recognised for her experimental use of non-traditional and vernacular materials; for her explorations of embodiment and identity; and her incorporation of a range of literary, mythical and art historical references in an ever expanding oeuvre. Her artistic practice spans painting, sculpture, photography, drawing, animation and video. Her first major solo show, 'familiar' was presented at the Douglas Hyde Gallery Dublin in 1994.  In that same year she represented Ireland at the Sao Paolo Biennale.
Alice has exhibited widely nationally and internationally ever since, and in 2012, the Irish Museum of Modern Art presented a retrospective of Maher's work titled, 'Becoming'.  She has made many collaborative works in theatre, dance and film.  Her work can be viewed in international collections including The Neuberger Museum, British Museum, Museum of Fine Arts Boston, Georges Pompidou Centre and the Irish Museum of Modern Art.
In 2012 Alice Maher received an Honorary Doctorate in Fine Art from the National University of Ireland.