Visual Arts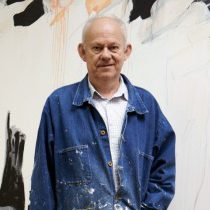 Brian Maguire
Born in Bray, Co. Wicklow, in 1951, Brian Maguire was educated at Dun Laoghaire School of Art and the National College of Art & Design in Dublin. He subsequently taught at both institutions, and was appointed professor and head of the fine art faculty at NCAD in 2000.
His expressionistic drawings and paintings typically explore themes of sexual and political alienation, and he has also created works using video, photography, and large billboard posters. He has been artist-in-residence at prisons in Ireland, Poland, and the U.S., at the Bayview Correction Center for women in Manhattan, which resulted in a project exhibition at the White Box gallery and a billboard on 10th Avenue (2002).
He represented Ireland at the 1998 Sao Paulo Bienal, and created the "Casa de Cultura" series based on people from that city's favelas. The Hugh Lane Gallery in Dublin held a major retrospective in 2000, which subsequently travelled to the Contemporary Art Museum of Houston, Texas, and the Crawford Art Gallery in Cork.
He has received several Arts Council bursaries, and won the Irish-American Cultural Institute's O'Malley Art Award in 1990. His work is held in collections including the Irish Museum of Modern Art, Hugh Lane Municipal Art Gallery in Dublin, the Alvar Aalto Museum in Finland, and the Gemeentemuseum in the Hague, Netherlands.
Photo credit: Perry Ogden.