Visual Arts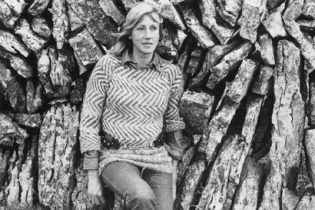 Anne Madden
Anne Madden is particularly well known in both Ireland and France where she has divided her time for the past forty years. Of Irish and Anglo-Chilean origin, Anne Madden spent her first years in Chile. Her parents returned to Europe to live in Ireland and in London, where she subsequently attended the Chelsea School of Arts and Crafts. During this period she was impressed by an important exhibition of American painting at the Royal Academy. It was Abstract Expressionism that opened up new possibilities of experimentation for her at that time. She later met some of these artists in Paris and New York among them Jean-Paul Riopelle, Joan Mitchell, Mark Rothko, Lee Krasner and others with some of whom she exchanged works. The techniques employed included palette knife and paint flows and soon involved the use of multiple canvases as a means of creating pictorial interactions.
Anne Madden began to exhibit in group shows in London and Dublin from the age of 18. The Burren and her love of wilderness informed these early paintings. Her work was then interrupted for three years by a series of operations on her spine. During that time she met the painter Louis le Brocquy who was then working in London. They married in 1958 and set up house and studio in the south of France, where two sons were born to them, Alexis and Pierre.
In 1965 Anne Madden represented Ireland at the Paris Biennale, before regularly exhibiting in that city. From the 1960s she began to pour paint onto the canvas making a series of abstract landscapes influenced by her time as a young girl in the west of Ireland, near the Burren in Co Clare. Between 1970 and 1979 she embarked on a large series of vertical works, their size determined by her height and reach. Reflecting on life and death, the works derived from megaliths and other prehistoric monuments seen in the Burren were elegiac in nature. In the 1980s Madden stopped painting for a time and devoted herself to drawing. This resulted in a series of large works in graphite and oil paint on paper entitled Openings, which formed the exhibition of her work at the Fondation Maeght, in 1983 and represented her in ROSC '84. Anne Madden then returned to painting on canvas and developed a large body of work which was included in a retrospective sponsored by the Arts Council at the R.H.A Gallagher Galleries, Dublin in 1991.
In 1996 the Odyssey series, demonstrating an increasingly ambitious scale in Madden's work, were shown in Galerie Maeght, Paris. The Odyssey and Icarus series were then exhibited in Dublin City Gallery The Hugh Lane in 1997. She undertook a large commission for the Château de Carros in France (Empyrius, 1999). The spectacular 54m. squared ceiling suggests a sacred and ritualistic space. Winged Figure (2004–5), which was painted shortly afterwards, shows an angel-like winged figure over a flaming sea or sky. According to the artist this figure could be an apocalyptical or menacing presence. Recent exhibitions of work by Anne Madden include 'A Space of Time', shown in Dublin City Gallery The Hugh Lane in 2003, The New Art Centre, England and Centre Culturel Irlandais, Paris in 2005. A major retrospective exhibition of her paintings took place in the Irish Museum of Modern Art in 2007. An important monograph was published by IMMA to coincide with the retrospective, with essays by Enrique Juncosa Autumn Auroras and Derek Mahon Gravity and Grace: The Art of Anne Madden, as well as a poem by Derek Mahon Triptych (for Anne Madden).
The artist's work is represented in many public collections including the Musée d'Art Moderne de la Ville de Paris, the Irish Museum of Modern Art, the Centre National d'Art Contemporain Georges Pompidou, Paris, Fondation Maeght, Picasso Museum, Antibes, Musée d'Art Moderne, Nice and l'Etat Francais.
Her book Louis le Brocquy. Seeing His Way, was published in 1993 by Gill & Macmillan. A year later she received a commission from Dr. Ronald Tallon, architect of the O'Reilly Hall at U.C.D., to paint one of the ten large paintings displayed within the Aula Maxima. In 1999 the hillside village of Carros in the south of France commissioned Anne Madden to paint a large vaulted ceiling painting measuring 900 x 600 cm for its medieval castle, which had recently opened as an international contemporary art centre. The opening was the occasion of the unveiling of a permanent room dedicated to the artist's work in recognition of her involvement in the artistic life of the region. In 2008, The American jazz impressario George Wein donated Winged Figure (2004, oil on canvas, 390 x 342 cm), to Dublin City Council. The large-scale painting is now on permanent display in Dublin City Hall. In 2009 Anne Madden held exhibitions in Flowers Central, London and Taylor Galleries, Dublin.
Anne Madden holds an honorary doctorate from University College Dublin (LLd, 2006). The same year a television documentary produced by Mind the Gap Films was shown as part of RTE 's Arts Lives series. In 2007 the artist was invited to deliver the prestigious Winter Lecture at Irish Museum of modern Art, and in 2008 was made Officier des Arts et des Lettresby the French Government.
Anne Madden lives and works in Dublin.