Music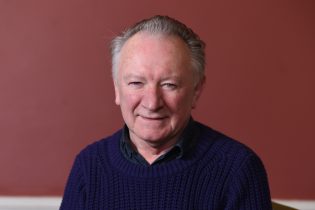 Donal Lunny
Donal Lunny was born in Tullamore before moving to Newbridge, County Kildare where he attended Newbridge College and the Patrician Secondary. He had an implicit awareness of Irish music from an early age due to the influence of his parents Francis and Mary, and from summers spent in Donegal.
From the age of 15 he was accompanying traditional players in Kildare. He won two scholarships to the National College of Art and Design where he studied from 1965 until 1968. His musical activities continued throughout his time at the College, winning the National Folksong Competition with his group 'Emmet Spiceland'. For over two years, he also made silverwork and jewellery in a workshop he shared with the sculptor Vincent Browne.
In 1971, He was one of the founding members of the group 'Planxty'. He wrote the countermelodies to be played on all the pipes and whistles, and arranged harmonic structures and chord patterns for guitar and harmonium. He also played bouzouki, guitar, keyboards and bódhrans on all 'Planxty' recordings. 'Planxty' recorded three albums in the period 1971-1973 and redefined traditional Irish music. Their albums included 'Cold Blow and the Rainy Night' and 'The Well below the Valley'.
In 1975, He joined the 'Bothy Band', producing four albums in four years including 'Out of the Wind and in to the Sun' and 'After Hours'. In 1980, 'Planxty' reformed and he produced the three resulting albums before finally forming 'Moving Hearts' with some of his former Planxty band-mates. 'Moving Hearts', who were responsible for such albums as 'Dark End of the Street' and 'The Storm,' were a hybrid, incorporating contemporary folk music, jazz and other influences with elements of rock.
He has also composed for stage and television including the soundtrack for 'Eat the Peach' (1985) and 'This is my Father' (1997) and the opening title music for the series 'Bringing it all Back Home' (1991) and 'River of Sound' (1997). In 1996 he won the IRMA Producer of the Year award and in 1998, the National Entertainment Award.