Visual Arts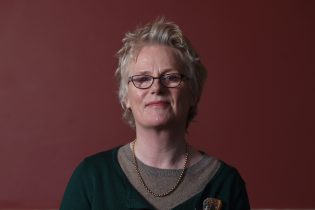 Mary Lohan
Born in Dublin in 1954, Mary Lohan studied painting at the National College of Art & Design. Her work is in the collections of the Irish Museum of Modern Art, Office of Public Works, Department of the Taoiseach and numerous other public and private collections both in Ireland and abroad.
She is represented by the Taylor Galleries in Dublin, where she has had six solo shows since 1991.
Her subject material is landscape, but her gaze is always out to sea, away from the land, to the extent that her paintings are primarily about the sea and the screens of weather that endlessly recreate its appearance. Usually we are offered a tidal threshold, a momentary vantage point of sand or sometimes mud from which we might find our way into the expanse of ocean and sky.
Some years back, Lohan began to extend the standard compositional rectangle canvass by using diptych and triptych formats. In her last show, she went further and included several polyptychs. She continues to explore this format.
She lives and works in Dublin. Her work can be viewed in the Taylor Galleries.