Visual Arts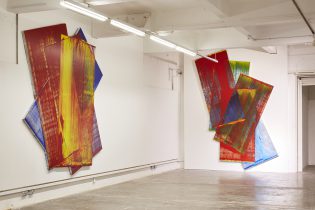 Lennon
Lennon (christened Kieran Lennon) was born in Dublin in 1947. He lives and works in Dublin.
Known for his Art form: Porous Plane, which has its beginnings in the Folded / Unfolded paintings of 1969-1972.
Folded/Unfolded 1972:
http://ciaranlennon.com/wp-content/uploads/2014/04/Folded-Unfolded-1972-DMF5-600x600px-v2.jpg
His position and point-of-view derives from his discovery aged 12 (1959) of the Holocaust, and later, the need for a secular, formal art to underpin the democratic aspirations of the new Irish state, and from his experience of living in the post-colonial Church / State hegemony. 'One is not born for Societies needs' evolved his Art and his life as a self-maker.
Wary of moral meanings attaching to art, he set out to strip painting of image (Gorgon) and language (Illustration)
Porous Planes consists of:
AI13 MM paintings: Non-image, composed of composite units of Aluminium plates and paint brushstrokes: the viewers side of the traditional picture plane; located in and bordered by the field of vision of the viewer.
Autochthones: The single unit of his art: These are made of blocks of Aluminium which produce their own pigment when the surface has been sandpapered by hand.
ArbitraryColourCollections: The Arbitrary Colour Collections are gathered together over time (On-Going) the paint / colours are spread across and towards the viewer between chaos and order, avoiding personal taste.
Denier7s: These are volumnized wire-mesh paintings that attempt to combine the space of gesture and the space colour in the clotted web of the wire mesh.
Bringing painting back to its origins; to the first composite Wall / Figure cave paintings and the first composite  body of human experience i.e. the body of Mother / Child.
See website: ciaranlennon.com
Prerogatives of Porous Plane:
To rid painting of the Gorgon (Image) and the Sphinx (Illustration – Language)
The primacy of the single individual viewer.
From matter to mind / making by principles of evolution
Portability / Independence of Architecture and Place.
Boundaries / Limited to the unique dimensions and the field of vision of the viewer.
Non – Image / Made for eyes: Mine and Others. The vertical viewer completes the composition of the painting.