Literature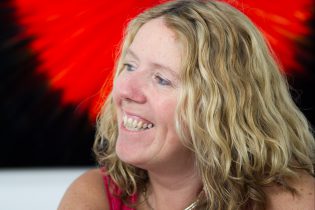 Deirdre Kinahan
Originally from Dublin, Deirdre Kinahan lives with her family in Kells, County Meath. Her mother Pat was an ardent theatregoer with Deirdre accompanying her to all manner of productions from childhood.  Having attended drama school as a child, Dramsoc as a student and acting with Amateur groups she founded her own Theatre Company in 1997.  Tall Tales became a successful independent company, funded by the Arts Council and this is where she began writing.  Believing in the power of theatre to change hearts and minds, she writes from the margins, charting the human condition as it grapples with contemporary life.
Plays include Rathmines Road, Crossings, Spinning, Halcyon Days, Moment, Bogboy, Hue & Cry, Melody.   Her 2018 version of Les Belle Soeurs by Michel Tremblay, The Unmanageable Sisters was a sell-out hit at the Abbey theatre.
She collaborates with various artists and companies around the world, most recently The Old Vic London, Pentabus UK and Solas Nua in Washington DC where her play co-written with celebrated hip-hop playwright Psalmeyene 24 is nominated for most outstanding script by The Helen Hayes Awards 2019.   She is literary associate with Meath Councy Council Arts Office and has served as a board member for the Abbey Theatre, Theatre Forum Ireland and the Stewart Parkert Trust. Her work is translated into many languages and  published by Nick Hern Books
Awards include Tony Doyle Bursary BBC Northern Ireland 2009, Fringe First Edinburgh 2013, Tilestyle Bursary 2014, Peggy Ramsay 2014.   Moment, Spinning, Bogboy have won or been nominated for numerous awards worldwide: Helen Hayes Washington DC, Toronto Doras, London Westies, Chicago Jeffs, First Irish New York.