Literature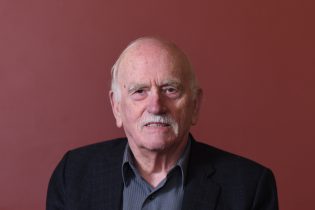 Thomas Kilroy
Born in Kilkenny in 1934, Thomas Kilroy studied at University College Dublin and has taught or lectured at universities in Europe, Asia and the U.S.
His plays include The Death and Resurrection of Mr. Roche (1968), The O'Neill (1969), Tea and Sex and Shakespeare (1976), Talbot's Box (1977), Double Cross (1986), The Madame MacAdam Travelling Theatre (1991), which he is adapting as a screenplay for a feature film, and The Secret Fall of Constance Wilde (1997). He adapted Ibsen's Ghosts and Chekhov's The Seagull, the latter to a setting in the west of Ireland, and he wrote a version of Pirandello's Six Characters in Search of an Author (1996). The Big Chapel, a novel, won the Guardian Fiction Prize in 1971 and was shortlisted for the Booker Prize; he has adapted it as a radio play for the Worldplay International Drama Series in 2003.
In the late 1980s, he was a director of the Field Day Theatre Company. He is a fellow of the Royal Society of Literature (and won its Heinemann Award in 1972), and a member of the Irish Academy of Letters. He won the Irish-American Foundation's Literary Award in 1974.
He has also written screenplays for television and film, and numerous works of criticism on Irish literature. At the Irish Times/ESB Theatre Awards, 2004, he was presented with a Special Achievement Award for his contribution to theatre. The Abbey Theatre commissioned a new play, The Shape of Metal, for 2003. His latest work, Henry, was presented by the PICT company, Pittsburgh, USA, in September 2005. He is also writing a play about the English poet and visual artist William Blake.