Visual Arts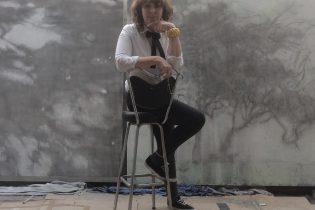 Bernadette Kiely
Bernadette Kiely grew up in Carrick on Suir, County Tipperary and graduated from the College of Art and Design, Waterford I.T. with first class honours in Graphic Design Communications. She worked for two years in Graphic Design in London and Architecture in New York before studying drawing at the Slade School of Fine Art, University of London.
She was the first administrator of the Butler Gallery, Kilkenny and was a founder member of the Kilkenny School Project Educate Together School. She was also a founder member and Chair of Thomastown Environmental Association in the 1980/90's while maintaining an art practice ranging from work on paper to largescale painting and drawing on canvas.
Her work has been exhibited nationally and internationally and she has been the recipient of many awards and bursaries.
Awarded a studio residency at the Royal Hibernian Academy Schools in 2015 she has also been on residency at the Ballinglen Arts Foundation, Co. Mayo, The Tyrone Guthrie Centre, Co. Monaghan and Cill Rialaig Artists retreat Centre, Co. Kerry.
Her work is held in both public and private collections in Ireland, UK, Europe, USA and Korea.
She lives and works in Thomastown, Co. Kilkenny.
Her work is inspired by landscape elements, particularly the influence of water on land and its inherent ability to act as a visible marker of the passage of time and the fragility of the world.
While inspiration often comes from the ground beneath her own feet, her imagery also comes from sources including her own photography, TV broadcasts, newspapers and online documentary images.
Tapping into the effects of climate change, geography and the nature of perception – how our perception is mediated by our senses – her work depicts imagery that often veils what we are looking at and makes us think again ; blankets of mist, fog, fire smoke, and floodwater.
Also informed by a sense of lives measured against the changing face of the land she references her personal life through memory and place in relation to her family history both in Ireland and throughout the wider world. Her work seeks to draw attention to a sense of unease and awareness of current atmospheric conditions, prompting us towards a fundamental reassessment of ourselves and our relationship to the world around us.
Represented in Ireland by Taylor Galleries, 16, Kildare Street, Dublin. www.taylorgalleries.ie